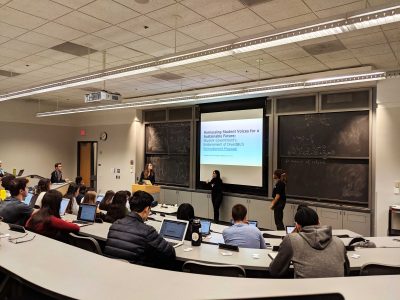 Boston University's Student Government Senate voted at their meeting Monday night to endorse DivestBU's reinvestment proposal that calls on the university to fully divest from fossil fuel industries.
The meeting opened with a presentation by DivestBU, a coalition of BU community members who released a proposal last week urging BU to divest its endowment from fossil fuel industries.
The proposal asks BU to reinvest in a Green Economies Fund, which would have no stock holdings in fossil fuels, and help support a Social Impact Fund, which would uplift local environmental justice communities.
DivestBU members Bolaji Olagbegi and Bridget De La Torre, both juniors in the College of Arts and Sciences, led the presentation and said the coalition has campaigned for BU's divestment since 2013. In the past, they said, DivestBU submitted three proposals that argued divestment fits BU's core values.
According to Olagbegi and De La Torre, BU's Board of Trustees said they would revisit the issue of divestment at least every five years. The last time BU visited the issue of divestment was 2016, which is why DivestBU has re-submitted their proposal now, they said.
The Board of Trustees meets again in April, according to Olagbegi and De La Torre, which could lead to more movement on the subject from the university.
"This will impact communities that need the most help," De La Torre said. "An endorsement from Student Government would help a lot of other clubs come forward on this issue."
Senate then debated the Executive Accountability Constitutional Amendment Proposal, which aims to keep SG's Executive Board accountable to their campaign promises.
The amendment would ensure the Judicial Commission keeps a permanent record of the e-board's campaign promises and endorsements and would require the incoming e-board to inform Senate on the status of their endorsements and campaign promises once per semester.
Senate Chair Andrew Chiao said this will hold the executive board accountable in the long-term.
"This is not just changing some words," Chiao said. "It will affect any future slates, anyone promising anything when campaigning."
Chiao said he hopes the record of endorsements and campaign promises will encourage collaboration between future executive boards and student groups on campus.
Senate will vote on the proposal at a future meeting.