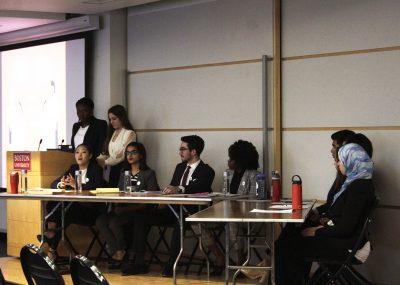 Candidates for Boston University Student Government president, along with their slates, participated in a debate Tuesday night where they discussed their platforms and ideas they would implement if elected.
The debate, which took place in the Photonics Center, began with the two slates, EmpowerBU and YourBU, presenting their platforms to an audience of about 25 students and SG members in attendance.
YourBU — which includes Presidential nominee Augustine Jimenez, Executive Vice President nominee Mercedes Muñoz, Vice President of Internal Affairs nominee Nada Shalash and Vice President of Finance nominee Norman Toro Vega — began the debate by having each of their slate members present one of the four focus points of their platform.
According to the candidates, YourBU's platform includes promoting health and wellness, supporting underrepresented BU communities, strengthening the BU community and aiding students in professional development.
Some of their initiatives include expanding services at career centers throughout BU to aid in the development of young professionals and continuing the tradition of a spring concert as an outlet for students to de-stress before finals.
One of YourBU's four platform pillars is "a student body come alive," which Jimenez said he believes will bring together all corners of BU to build a stronger university.
"Lend us your voice, and together we can make this your BU," Jimenez said.
The EmpowerBU slate — which includes Presidential nominee Hafzat Akanni, Executive Vice President nominee Neha Iyer, Vice President of Internal Affairs nominee Jessica Zheng, and Vice President of Finance nominee Lukas Flores — followed with their five-pillar platform.
Their slate focuses on empowering health, the BU community, underrepresented students, student life and and relationships within the university.
Iyer said EmpowerBU is founded on the idea of intersectionality.
"Therefore, we decided we wanted to tackle a range of issues across BU's campus to make sure that we can empower you to empower BU," Iyer said.
Some of their initiatives include improving health services so students have better mental, physical and sexual health and increasing recycling and compost opportunities on campus.  
After the opening statements, Student Election Commission co-chairs Ayomide Ojebuoboh and Vanessa Rodriguez proctored questions for each slate. Both slates expressed they would like to see more student involvement in SG next year, so that every student can feel better represented.
"I want this room to be full, and I would love to see almost every student vote," Zheng said. "That means I would love to see almost 17,000 different people vote."
During EmpowerBU's closing statement, Akanni said she is confident everyone at BU would resonate with at least one of the slate's five pillars.
"Real change doesn't happen in one year — it doesn't even happen in two," Akanni said. "We understand that, but we are ready and willing to champion on the efforts of past executive boards to transform and change Boston University."
Jimenez said during his closing statement for YourBU that, as a first-generation American and first-generation college student, he is used to "blazing trails" for himself.
"I have embraced my potential to really have a positive impact, and I'm ready to blaze trails for other students," Jimenez said. "I do really believe that we can make this your BU."
Anna Pham, a sophomore senator from the College of Communication who attended the debate, said the questions provided by the discussion facilitators and students gave her a better understanding of each candidate.
"I think they [students] should attend press conferences, and definitely take a look at both slates' social medias and websites," Pham said. "Do your research, and feel free to reach out to the candidates."
Jordan Exum, a senior in COM also in attendance, said she is proud to be ushering in a new generation of Student Government with a fair election.
"I'm concerned about the mental health initiative on-campus," Exum said. "I'm concerned about underrepresented students, I'm concerned about people understanding that everyone is involved in Student Government."
Voting for SG executive board will open in the BU Student Link on March 31 at 12 p.m. and close on April 7 at 12 a.m. The winner will be announced at a dinner in the George Sherman Union's Backcourt on April 8.