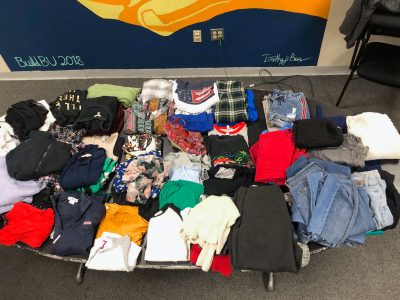 Students parsed through neatly organized piles of shirts, jeans, sweaters and dresses that lined tables in the basement of the George Sherman Union. They selected items to bring home, after sifting through the piles and avoiding to take the clothes they brought.
On Saturday afternoon, a small crowd of a little more than 20 students participated in the first-ever clothing swap hosted by Boston University Student Government's Department of Environmental Affairs.
Grace Li, a senior in the College of Arts and Sciences and director of the Environmental Affairs Department, said the department first came up with the idea about a month-and-a-half ago and, after some alterations to their ideas, finalized a date and location.
Li said this event was a way to bring awareness to the fashion industry's impact on the environment. Her department is always looking for ways to promote sustainability at BU and help students make practical, green decisions in their daily life, she said.
"I think it's important to know that one of the greatest ways we as individuals can take climate action is by reducing our own waste and using our buying decisions to help transform the economy," Li said. "Even smaller changes will translate to greater changes overall."
The swap began with a presentation on the clothing industry, which stressed the importance of participating in events like the swap, according to Li. The presentation included various statistics about the environmental impact of the fashion industry, such as how a single pair of jeans or a T-shirt can take more than 5,000 gallons of water to manufacture.
Gopika Das, a CAS senior who attended the clothing swap, said these numbers astonished her.
"[This statistic] was eye-opening and something I did not expect," Das said. "So that definitely caused me to take a step back and reconsider and think about the solutions they talked about."
Some of those solutions included shopping at secondhand stores, such as Goodwill, The Garment District and Buffalo Exchange, or buying from sustainable fashion companies, such as Patagonia, Fair Indigo and Everlane.
"The fashion industry would become more sustainable if we pushed it to become so," Li said. "If you're buying that clothing secondhand or you're switching out with your friends, that saves so much water and all the resources that are used to make that."
Delaney Swann, a sophomore SG senator from the College of Engineering, attended the clothing swap and said she has been trying to avoid buying new clothes. She said her parents raised her to be environmentally conscious, but it wasn't until last year that she became mindful of her fashion habits.
Swann said some of the most challenging parts of shopping sustainably are buying shoes and keeping up with fads. Because she lives on BU's campus, she said she sees what's trending but knows it won't hit secondhand stores until months later.
Still, she said, it is worth it to know she is making an impact on the environment.
"My choices — however small they are — that does make a difference in the long run," Swann said. "I don't want to go down in history as part of the generation that killed the earth."
She added she tries to inform her friends and peers about shopping sustainably. Events like the clothing swap, she said, serve as a great way to spread awareness, get involved and have fun.
"We were really pleased with the outcome," Li said. "A lot of students walked away with new items they were excited to have and were able to clean out their own closet and get rid of gently used items that they didn't want."
Aanchal Gupta, a senior in CAS and member of the Environmental Affairs Department's planning committee, said some of the most challenging parts of organizing the swap were finding a convenient time and place for students, as well as advertising.
In the end, she said she felt their effort paid off.
"People seemed to have really liked the event," Gupta said. "A few even mentioned that they would like to have it more often."
Gupta added the environmental affairs planning committee is looking into hosting another swap in the fall. Meanwhile, she said, the committee has a lot of activities planned for Earth Week coming up in April.
"Everyone was super friendly and welcoming," Das said. "I definitely would go back if there was another one — it was so fun."