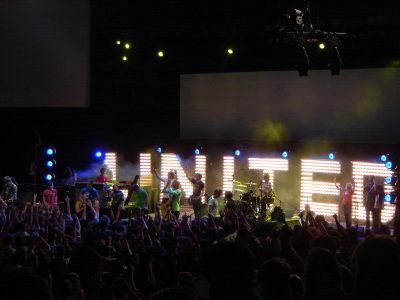 Worship band Hillsong UNITED will perform at Agganis Arena July 1 while touring across the United States. The band is affiliated with Hillsong Church, a Christian megachurch initially founded in Australia in 1983 that has since spread across the world with its modern take on evangelical Christianity.
Hillsong Church has attracted a young adult demographic, including celebrities such as Justin Bieber and Chris Pratt, yet has faced criticism over its conservative views on homosexuality and abortion. Hillsong UNITED's presence on campus this summer has sparked mixed reactions from the BU community over the group's conservative policies, as well.
In August 2017, Hillsong Church founding Pastor Brian Houston released a statement in which he urged Australians to vote against same-sex marriage legalization. In August 2015, Houston said the church would accept gay members into the community but would not allow them to take on active leadership roles.
"Hillsong Church welcomes ALL people but does not affirm all lifestyles," Houston wrote in a press release. "Put clearly, we do not affirm a gay lifestyle and because of this we do not knowingly have actively gay people in positions of leadership, either paid or unpaid."
More recently, the church released another statement on Feb. 14 stating they are not "anti-anyone" and that they love and welcome all people regardless of their backgrounds or identities.
Hillsong Church has a location in downtown Boston on Tremont Street.
Dielle Lundberg, a graduate student in the School of Public Health and an executive board member for BU's Queer Alliance, wrote in an email Hillsong Church's toleration of LGBTQ people does not undo its decades of pain and psychological impacts on the community.
"What would be a step in the right direction is if the organization paid for independent LGBTQ+ educators to train leadership on basic sexual orientation and gender competency and included such education in all major programming such as the Agganis Arena event," Lundberg wrote.
BU spokesperson Colin Riley said Agganis Arena would not be commenting on Hillsong UNITED's summer performance.
Hillsong Church did not respond to multiple requests for comment.
Hillsong Church also came under fire in November 2018 for a different reason after Brett Sengstock said on "60 Minutes" he was the victim of child abuse at the hands of Frank Houston, who was a Pentecostal Christian pastor and father of Hillsong Church founder Brian Houston.
In a statement about the accusations, Hillsong Church denied there was a lack of transparency by its leadership and said the criminal allegations occured before Hillsong Church existed.
Despite criticism of the church, the affiliated band's song "Oceans (Where Feet May Fail)" topped Billboard's Hot Christian Songs chart in 2013, and more recently their song "So Will I (100 Billion X)" peaked at No. 3 on the chart in 2018.
Andrew Chiao, Senate Chair of the BU Student Government, said he has never heard of the band, so his opinion is limited, but that the group should not be discounted with little thought.
"I think that an ultra-conservative group or performance should be given equal consideration to perform on campus," Chiao said.
However, Chiao said, a group that spreads hateful messages should not be allowed to perform at Agganis because hate speech is not permitted at BU.
Hillsong UNITED's song lyrics refrain from social and political themes, instead focusing on messages of worship.
Julia Lanham, an advisor for the School of Public Health Queer Alliance, wrote in an email Hillsong Church has never shown support for LGBTQ people and has harmed the community over the years.
"I am under the assumption that BU did not know about this group's homophobic history when they booked this concert at Agganis Arena," Lanham wrote. "I hope the university will take steps to rectify the situation either by canceling the concert or requiring Hillsong to take meaningful, public action in support of LGBTQ+ people – particularly youth – prior to any event on campus."
Riley said the acts that perform at Agganis Arena are generally recognized artists, and Hillsong UNITED is no different.
"It's one of the finest new venues in the last dozen years or more," Riley said. "We work with established, reputable and high-quality promoters."
Zachary Bos, administrative coordinator for the College of Arts and Sciences' Core Curriculum and Massachusetts director for American Atheists, wrote in an email there have been talks about protests of this concert.
"I've been moderating discussion among some local secular (humanist, atheist, and skeptic) groups, about the possibility of a protest demonstration of some kind," Bos wrote.
Maya Jones, a freshman in College of Communication, said she thinks the scheduled performance is offensive to a lot of students at BU.
"I do not think that BU should let them play here," Jones said. "They should be wary of groups that are super controversial."
David Hou, a freshman in CAS, said he thinks whether or not Hillsong UNITED is welcome on campus is BU's decision to make as a private university.
"I haven't heard of Hillsong as an extremist institution, so I guess that's a decision of the university," Hou said.
Riley said Agganis Arena has had success over the years, and that eclectic groups and performers have come to do shows at the mid-size venue.
"One of the benefits of having Agganis Arena is it generates revenue for the university's operating budget, and not only covers the cost of hosting the show," Riley said.
Meagan Cassidy Coyle, a junior in College of Arts and Sciences, said she thinks the school strives to appear inclusive, but hosting a church band that is affiliated with anti-LGBTQ or sexual abuse scandals demonstrates its financially driven nature.
Coyle said while it is important that finances at the school be maintained, she thinks it is more important that students are protected against discrimination.
"Agganis Arena absolutely has a say in which groups perform at BU," Coyle said, "especially when financial gains are associated with the invitation."