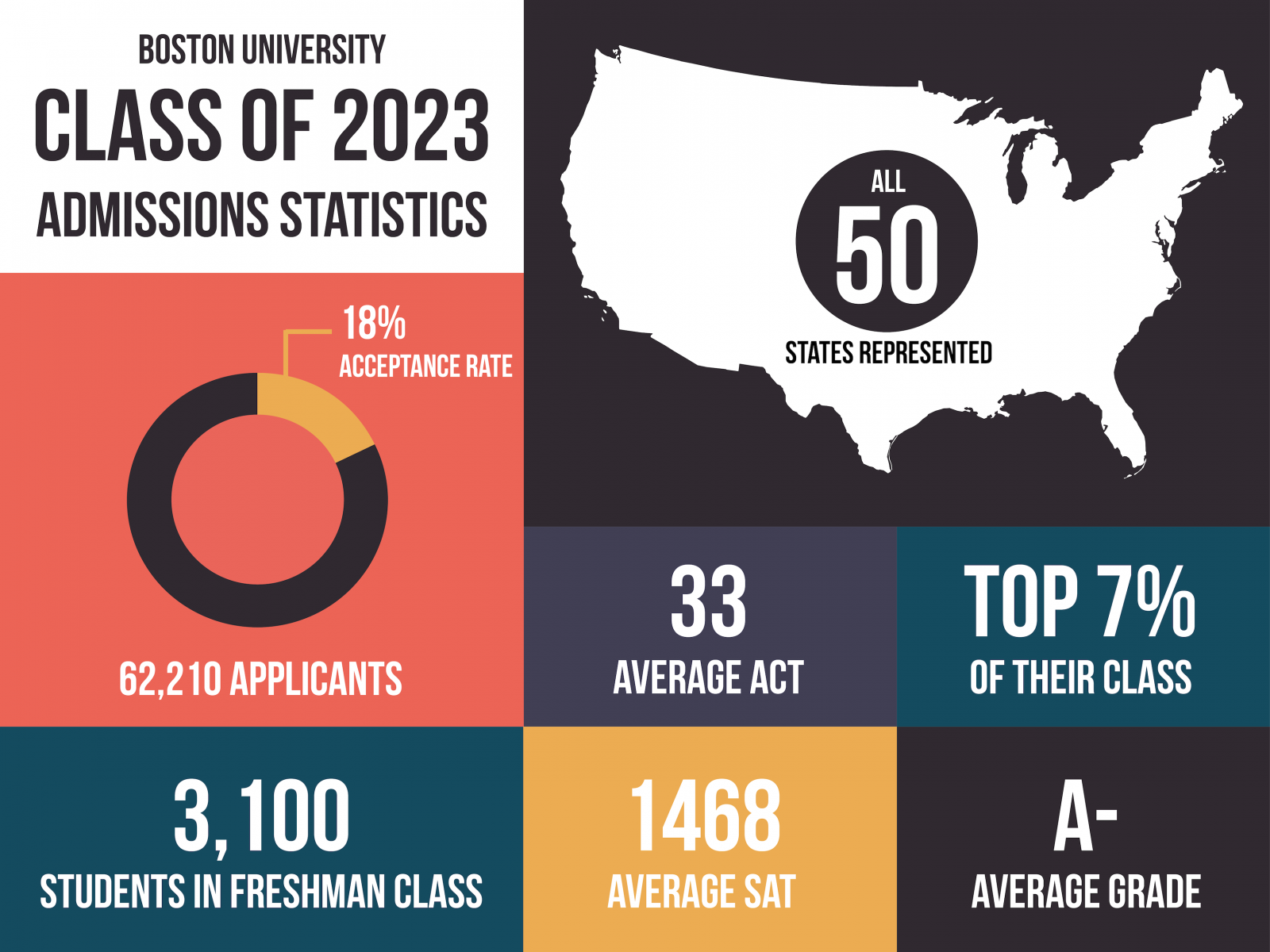 Boston University notified students who applied regular decision of their acceptance to the class of 2023 Saturday. Out of 62,210 applications, about 3,100 students will join the BU community this fall as the incoming freshman class.
The class of 2023 had an acceptance rate of 18.1 percent. The new class has an average SAT score of 1468, average ACT score of 33 and rank, on average, in the top 7 percent of their high school class.
BU President Robert Brown wrote in an email to The Daily Free Press the students BU admitted are "exceptionally well qualified."
"We do have to remember that not all of those admitted have yet decided to come to BU," Brown wrote. "The next month is the time of decisions and we are hopeful that we will do well."
Students from the class of 2023 hail from 106 countries and all 50 states. Many have already taken to Facebook to ask about classes and search for potential roommates.
Dana Alsheikh-Ali, 18, of Dubai, United Arab Emirates, said she was accepted to BU through regular decision over the weekend. Alsheikh-Ali has roots in Boston, as she was born in the city and her dad earned his master's degree at BU.
"My sister, who is two years older than me, started touring colleges the summer before her junior year when I was 14," she said. "When she came back from her BU tour, I read the brochures page-to-page, over and over again, and became obsessed with the school."
Alsheikh-Ali said she loved the school and has visited multiple times.
"My mom always told me that when you step onto the school you belong at," she said, "you'll feel it in your gut, and that's exactly what I felt when I visited BU for the first time."
The Frederick S. Pardee School of Global Studies, where Alsheikh-Ali said she will join the BU class of 2023 and study international relations, was one of her favorite parts of campus. Alsheikh-Ali said she was nervous about making friends and having to live with multiple other girls.
Ruby Maute, an 18-year-old Cambridge resident, was accepted in December through early decision. Maute wrote over Facebook messenger learning about her acceptance made her feel relieved, especially because she received a lot of financial aid.
"The first person I told was my mom," Maute wrote. "I was in my room and as soon as I read my acceptance letter I yelled to her 'I got into BU!'" "As soon as I said that she ran upstairs to my room and together we went over the decision and financial aid letters."
Maute wrote she plans to study film and television in the College of Communication. She was initially drawn to BU because of its location, she wrote.
"I've loved growing up in the city and I'm glad that I'll be able to continue that," she wrote. "Before applying to BU I visited it a lot because I wanted to be certain that I was interested in possibly going there for college. I went to probably two or three tours/info sessions because I enjoyed touring so much."
Peyton Coel, 18, of South Burlington, Vermont, was accepted through Early Decision II and wrote over Facebook messenger she was drawn to BU for its sense of community and prestigious academic programs.
"I have visited the BU campus twice, and I loved pretty much everything about it," Coel wrote.
"The view of the Charles River from almost every building is unparalleled, and Bay State Road is probably one of the most beautiful places in Boston."
Coel wrote she disagrees with the notion that BU doesn't have a campus and said she could see herself hanging out with friends on the BU Beach. She plans to study history in the College of Arts and Sciences, she wrote, and wants to be a part of BU's International Affairs Association.
When Coel opened her application portal, she said she was overcome with feelings of joy.
"I ran from my bedroom into my living room to tell my mom and my brother, who immediately got up and started cheering and jumping around with me," she wrote. "It was one of the happiest moments of my life."