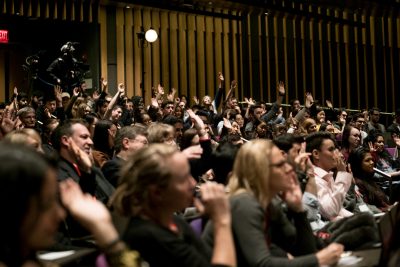 Northeastern University hosted TEDxNortheasternU Saturday with the objective of sharing ideas among people in all different fields and bringing together a community with a variety of innovative interests.
The event followed the basic TEDx Talk formula. TEDxNortheasternU featured speakers ranging from documentary filmmakers to college students to CEOs.
There were also many clubs and organizations in attendance, representing the next generation of students focused on the future of science, technology and engineering.
Scott Breece, a senior at Northeastern, has been planning TEDxNortheasternU for about a year along with other co-organizers. He said the team of co-organizers were passionate about sharing ideas and wanted to bring people together who don't normally interact.
"I thought it would be useful to bring this idea of interdisciplinary collaboration between different schools and different disciplines," Breece said. "It can be hard to get an engineer in the same room as a business person and health person because they all have such different interests, so I found that TED was a good brand that helped to bond people together."
The theme each year is different — this year it was Branches: Cultivating Connections. Breece said determining the theme was a team effort, and the TEDxNortheasternU organizers were passionate about their choice.
"There are a lot of different disciplines, areas and topics you can go into as a student or professional," he said. "But there are also similarities between them. For example, I am a musician, and I am a business person and event planner. It is cool to see how everything is separate, but if you look far enough, you can see a lot of similarities, as well."
Breece said TEDxNortheasternU was designed to encourage individuals to discover issues, perspectives and passions. The event featured performances and interactive exhibits, including a book swap and a Mars Rover display.
Victor Velazquez, a Northeastern alumnus and the founder and CEO of DeFrame — an app that connects people to art and museums — gave a talk about his experience developing an idea.
He told the story of going to an art museum with his whole family, including his aunt who is passionate about art. He said it was disappointing to him when the rest of his family was uninterested.
"I thought that maybe there was a need for someone to create something to make art more accessible, more easy to understand and more down to earth," Velazquez said. "That's what I wanted for my company. I always wanted to start my own company and have some experience in technology. I like museums, I like art, so that was the perfect area to solve this problem."
Velazquez also stressed the importance of finding a partner in business. He said partnerships enable one person to focus on building the product and the other to focus on marketing and selling it.
"If you want to start a tech business, you need to find a tech cofounder," Velazquez said. "Usually a business is built by having someone that can build something and someone that can sell whatever you are building."
Each of the speakers discussed challenges they faced in either their professional careers or personal lives. Many emphasized the importance of passion, drive and teamwork when it came to overcoming obstacles.
For Velazquez, passion is the key to overcoming challenges, he said.
"Success takes a very, very long time, so make sure you are doing something fun," he said. "If you are doing something you are passionate about, you are more likely to keep working during difficult times."
Mary Steffel, an assistant professor of marketing in the D'Amore-McKim School of Business, discussed the importance of teamwork and including others when facing overwhelming amounts of choices in her talk.
"Walking away from a difficult decision empty-handed is not the only way," Steffel said. "You can and should delegate your difficult decision to others. Delegating can help you walk away from a difficult decision with something rather than nothing."
By relying on other professionals in the field, close friends or a work team, she said, challenges that once seemed insurmountable may have an easy solution.
Kirk Brunson, a Cambridge-based software engineer working on artificial intelligence, said the fresh perspectives and creative energy found at TEDx events was why he came Saturday.
"Coming to an event where it is a mix of great ideas and great people leaves me inspired," Brunson said. "I love meeting and talking to people. The talks themselves are great, but I really enjoy getting to talk to people and learn what they are working on. I really enjoy those conversations."