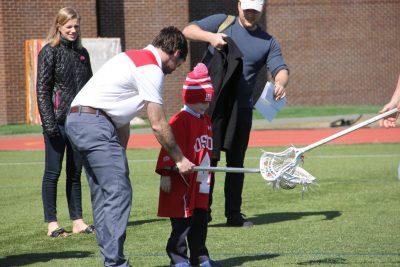 The Boston University men's lacrosse team has a new, young face on their roster.
The Terriers signed 5-year-old Patrick Mahoney on Monday as the newest member of the program. The Jamaica Plain native's signing was made possible through the work of Team IMPACT, a nonprofit organization that connects children facing serious, chronic illnesses with college sports teams.
Mahoney, who is currently battling brain cancer, will wear the number four with the Terriers. He will be on the sidelines at games and practices, and according to BU coach Ryan Polley, will serve as both a teammate and an inspiration.
"Patrick is truly an inspiration, and we are so happy and lucky to have him as the newest member of our team," Polley said. "Our players and our coaching staff have really embraced him, and we're thrilled that Patrick is going to have 44 big brothers."
Mahoney has been fighting medulloblastoma, a form of brain cancer, since the fall of 2017, his mother Kathleen Kavaney said in a BU Athletics video announcing his signing.
Elizabeth Higgins, a regional director at Team IMPACT who attended Mahoney's signing, said his parents were excited he was getting the opportunity to join the BU squad.
"The feeling of being included in something and a part of something beyond the diagnosis was something that was special to them," Higgins said.
Senior defenseman Eamon Hunter said he has enjoyed welcoming Mahoney into the team.
"Growing up, I always liked being a part of lacrosse and sports teams because those were my brothers growing up," Hunter said. "And so I think it's just great to welcome him in and hopefully be that big brother for him."
Junior redshirt midfielder Josh Williamson noted how strong and positive Mahoney has been given what he has been through.
"Patrick's only 5 years old, and he's been through some of the worst things you can go through in life," Williamson said. "Just seeing … how strong he is and how he still has a smile on his face when he comes out here, it's just good to see him out here."
Junior defender Chase Levesque said having Mahoney in the program gives the team a better perspective on life.
"The biggest thing with Patrick joining this team has been giving us some perspective," Levesque said. "He's living a tough life. … It's great to have someone on our roster that has that perspective on what's important, … being part of a family."
In the Team IMPACT branch that covers Massachusetts, Vermont, Maine and New Hampshire, Higgins said, there are currently more than 160 active relationships between athletes and teams.
"We are seeing these [relationships] on a daily basis," she said.
The men's lacrosse team will play their next game in Bethlehem, Pennsylvania, against Lehigh University Saturday afternoon at 1 p.m.