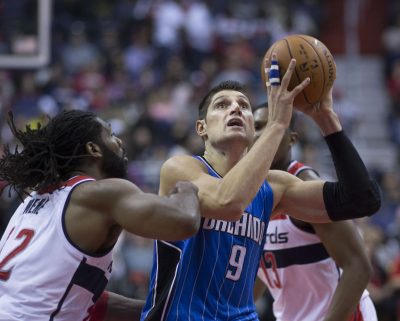 Coming into this season, very little was expected from the Orlando Magic. As a team that perennially sat in the basement of the league, the expectation was they would have yet another cold, damp campaign.
However, for the first time in seven years, the Magic have a chance to make the playoffs. After beating the Miami Heat 104-99 on Tuesday night, Orlando now sits as the eighth and final seed in a close race for the Eastern Conference's last three postseason slots.
If they can hold off their inter-division rivals Charlotte and Miami, then almost everyone on the roster would get their first sniff of playoff musk. With just under two weeks to go, Basketball Reference gives the Magic a 71.6 percent chance to play past Game 82.
A lot of the credit should go to former Magic assistant coach and now head coach Steve Clifford. There have been ups and downs — the Magic have beaten the Golden State Warriors, Philadelphia 76ers and Toronto Raptors by double digits, but they have also lost to the Chicago Bulls twice, the Cleveland Cavaliers and the Phoenix Suns.
But at the end of the day, Clifford is managing a team that deserves to give its fanbase a taste of the playoffs.
The longtime NBA coach has brought something to the Disney area that hasn't been there in nearly a decade: defense. As the main man in Charlotte, Clifford's teams never had a ton of talent, but they always made it hard for the opposing team to score.
Now in Orlando, the Magic rank sixth in the NBA with a 107.6 defensive rating. They also rank fourth in blocks per game, third in points allowed off turnovers and first in second-chance points allowed.
In his first season as head coach, Clifford has also implemented a system that results in disciplined play. The Magic are fifth in fewest turnovers committed per game and second in fewest fouls committed per game.
As a comparison, under head coach Frank Vogel last season, Orlando ranked 17th in fewest turnovers and 11th in fewest fouls last season.
Another very big and very tall reason for Orlando's success this season is their All-Star center Nikola Vucevic. In a contract year, the starting big man is averaging 20.8 points, 12.1 rebounds and 3.9 assists per game, which are all career highs.
When Big Vuc is on the floor, the Magic run their entire offense out of what he can do in the post or really anywhere on the floor. This season, Vucevic has made his hook shot a near unstoppable go-to move. Once he gets to his spot, he can throw that thing with either hand, and it goes in more often than not.
Vucevic has also stretched his game out to the three-point line, taking about three triples per game and hitting at a career-high 37-percent mark. Really, he can do anything you would want a center to do. Right after the upper echelon of Joel Embiid, Nikola Jokic and Karl-Anthony Towns, Vucevic is making a case to be the next center on that esteemed list.
In his seventh season playing for the Magic, Vucevic must be numb to the constant losing and despair. If he were to get into the playoffs for the first time in his Orlando career, I expect it would mean a lot. After being the best player on a terrible team for the better part of a decade, it would be nice to see Vuc get a chance to showcase his skills this spring.
Surrounding the 7-footer is a mix of savvy veterans and young, undeveloped prospects. Evan Fournier, DJ Augustin and Terrence Ross have all contributed in a big way this season. For better or worse, they provide the experience for a team with very little service time.
Fournier is serving the fifth year of his sentence in Orlando. Although his numbers aren't as good as they were in previous years, he has had some big moments this season. He has hit two buzzer beaters this year, something he has weirdly become adept at in his career.
DJ Augustin is the point guard on a team that always has bad point guards. However, Augustin has provided consistent play as a veteran with a big role. He hasn't been the regular starter on a team since his third NBA season in 2011.
But with the Magic, he shows up every game and will give you 12 points and 5 assists a night. Augustin knows his role and will never force a shot. There are worse point guards you could have.
Off the bench, Terrence Ross has certainly embraced the role of sixth man and spark plug. Ross has never seen a shot he didn't like. Even if he misses 10 shots in a row, he'll be right there on the next possession ready to take a contested leaning three. Still, when the shots are falling, T-Ross is as valuable as anybody on the roster. In many games this season, his scoring has been the difference between W and L.
Rounding out the regular rotation are Aaron Gordon and Jonathan Isaac. Isaac is the most intriguing player on the Magic and maybe even in the entire league. The tree branches he has for arms combined with his 6-foot-10-inch frame give him the potential to be one of the best defenders in the NBA. Already, in just his second season, he is frustrating opponents with his length and underrated agility.
On the offensive end, where Isaac clearly has to polish his game, his three-point shot is the biggest weakness. As a player who usually parks himself on the perimeter, his 32 percent shooting from deep on 3.5 attempts per game will have to improve. In February and March, Isaac is shooting average 37 percent from three, which could be a good sign for his shot moving forward.
If Isaac is the most intriguing, then Aaron Gordon is the hardest to figure out. Ever since signing a four-year extension last summer, Gordon has looked like the odd man out in his fifth year with Orlando. After improving every year, he seems to have stagnated in 2019.
Some games, he looks like the two-way, high flying potential star that the Magic drafted fourth overall in 2014. However, in others, he blends into the background, and whether he is on the court or not makes no difference. No one wants to be the chameleon on an NBA team.
Nonetheless, the Magic as a group should and deserve to grasp their playoff opportunity. By all accounts, not making the postseason this year would make the season a failure.
Expectations may have changed from the beginning of the season. But that's what happens when a team so close with a fan base starved of playoff basketball sees themselves in a strong position approaching the season's final games.
For the Magic, making the playoffs shouldn't require any magic at all.