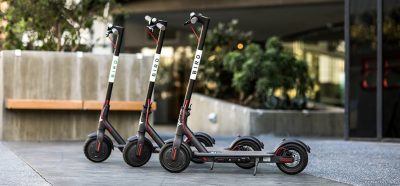 The Boston City Council unanimously passed an ordinance Thursday that brings Boston closer to allowing electric scooters on its streets. The ordinance established regulations for scooter companies such as Lime and Bird and guidelines for a flexible licensing structure.
Brookline will begin an e-scooter pilot program Monday morning, with Bird and Lime deploying 200 total vehicles across the city, according to MassLive.
Under state law, e-scooters are not fully legal in Massachusetts. State law stipulates motorized scooters must be equipped with turn signals and brake lights, which most such vehicles don't have.
The City Council's ordinance also establishes an advisory committee to the Boston Transportation Department, which will include a representative from the Mayor's office, the Council, the Disabilities Commission and the Environment Department, according to the ordinance.
The ordinance gives BTD control over the number of scooters allowed on Boston's streets and the number of licenses issued and renewed each year.
It also bars "small vehicles" from being stored on crosswalks, curb ramps, fire hydrants, building entrances and exits and public utilities, as well as requires electric scooter businesses to submit a plan to the City's advisory committee detailing how they will maintain rider safety.
District 6 City Councilor Matt O'Malley, who spoke in favor of the ordinance at a hearing last Wednesday, said during the meeting he supported the ordinance, as it was "an incredibly important first step" to welcoming a new form of transportation onto Boston's streets.
"We've seen other cities have tremendously successful rollouts of micro-mobility, particularly electric scooters, and we've seen others that have had some fits and starts since the beginning," O'Malley said. "So we're going to do it right. We're going to do it the Boston way."
A spokesperson for Bird said in an emailed statement the California-based company looks forward to working with Boston to bring their e-scooters to the city's residents.
"Bird is thrilled to see Boston become the first major city in the Northeast to embrace our environmentally friendly transportation solution," the spokesperson said. "We are committed to working with the City of Boston to help reduce its congestion and improve mobility for residents."
Boston Mayor Martin Walsh first proposed this ordinance at the end of January. Before the City Council voted on the ordinance, it was reviewed by the Council's Committee on Government Operations last Tuesday, which recommended the ordinance should pass.
Aric Sypert, 20, of Fenway, said he believes Bird could provide "greener transit," but he is worried that "people could leave them wherever."
Shae Fowler, 25, of Fenway, said he supported the scooter initiative, as it would help Boston become more environmentally friendly.
"I think that the scooters would be a great idea," Fowler said. "It would be great for the environment, and a city like Boston needs it."
Amy Hassett, 34, of Fenway, said she supported the initiative because the addition of electric scooters would create another transportation option for Boston's college students.
"I think using scooters is a great idea," Hassett said. "Boston already has the option of bikes, and I think another option would be great, especially because there are so many colleges around here."