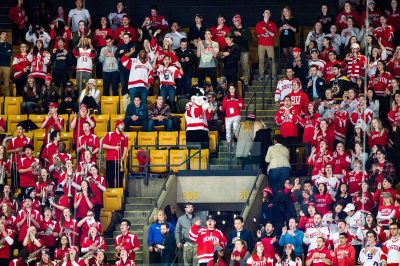 Boston University's Student Government is hosting a spirit week, beginning on Monday with BU Apparel Day and ending next Sunday with a walk to support research for Multiple Sclerosis.
Other events this week include two dress-up days: "Twin Tuesday," in which students wear the same outfits as their friends, and "Decades Day" on Wednesday, where students dress in themed clothes from a decade of their choice.
Thursday is Ten.10.X day, during which students are encouraged to spend 10 minutes doing service at one of ten locations on campus to protest the federal government's proposed changes to Title IX guidelines on sexual assault. Friday is the spring concert, 802.1.
SG president Devin Harvin said to cater to the different ways people enjoy coming together, Spirit Week incorporates a variety of interests including fashion, giveaways, community service and music.
"Spirit Week is just a way for us to show our diversity and how we can come together as a university," Harvin said. "Really it's a way to embrace how different we are compared to a lot of universities around the country."
Harvin said Spirit Week has been advertised mostly through social media, but was also included in his monthly email to the student body last Wednesday and on posters placed around campus.
"A lot of people are very critical of us that people still don't know who we are and [think] that the new executive board will be starting from scratch, but we've done a lot of good work," Harvin said. "We're very proud, and so we hope that Spirit Week will be a culmination of all the work we've done this semester."
Spirit Week events are partially funded by the undergraduate student fee.
SG press secretary Sydney Gullett wrote in an email SG decided to implement Spirit Week to increase student engagement on campus.
"Student engagement creates a greater sense of community," Gullett wrote. "Thus, leading up to our spring concert, spirit week will be a celebration of our students and our university."
On Friday, SG is holding its spring concert, 802.1, with Aminé as the headliner. The selected student openers for the show will likely be announced Monday morning, Harvin said, and tickets are sold out.
Gullet wrote students should participate in Spirit Week because it's enjoyable and gives them a chance to stand up for something that they believe in.
"Spirit week is not only a celebration of BU, but also of civic engagement and causes that I believe many students can empathize with," Gullet wrote. "Furthermore, spirit week will give students the opportunity to engage in causes, such as MS and Title IX."
Elizabeth Guerrero, a senior in the College of Engineering, said she hadn't heard anything about Spirit Week, but she may participate.
"Totally, I think it's a cool idea," Guerrero said.
Joyce Li, a senior in the College of Arts and Sciences, said although BU has many extracurriculars available to students, the school should have a spirit week.
"It feels like all the colleges are kind of separate," Li said, "and it would be nice to have this type of event.
Li added she will likely participate if she sees other students getting involved.
"I think a lot of people in this school don't want to do [something] if it's just their idea because they don't want to seem out of place," Li said. "If a group does it, then it is more of a community, and I feel like BU needs to build upon their community."