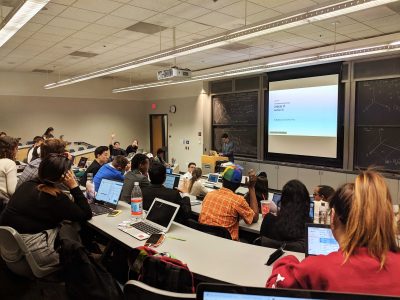 Student Government Senate passed an amendment to increase oversight of the Executive Board and discussed a measure that would cut the number of senators at their meeting Monday night.
Kianna Sanchez, a junior senator from the College of Communication, presented the President's Address, during which she reminded senators elections for at-large Senate seats are coming up this month and candidates need to register by April 10.
At-large senators advocate for issues that are relevant to specific areas of campus life, such as student well-being and first-year student support.  
The campaigning period is from April 12 to April 28, and voting will start on April 21 and end on April 28. There are 10 open seats for students to run for reserved Senate spots in order to represent a special interest.
Senate Chair elections will also take place this month, and candidates must declare their intent to run for the position by April 8, Sanchez said. Candidates will have one week to campaign among fellow senators, and voting will take place on April 15.
Abby Partnow, a sophomore senator from the College of Arts and Sciences, then told senators about Global Village — an event taking place on Wednesday that will feature 18 cultural groups and three performance groups in an evening to celebrate diversity.
"BU is an international campus, so we think it's really important to promote this idea of inclusion and diversity," Partnow said.  
Senate then discussed and passed the Executive Accountability Constitutional Amendment, which was proposed at last week's meeting by Senate Chair Andrew Chiao. The amendment aims to hold SG executive boards accountable to the promises they made during elections and would keep a written record of campaign promises and endorsements.
It would also require the Executive Board to provide updates on the status of their endorsements, and any complaints would be overseen by the Judicial Commission. The amendment will go into effect for next year's E-Board.
Chiao said he was excited his amendment passed.
"I think it's good for not just Student Government, but all the organizations that had endorsements are affected by this," Chiao said. "It makes me happy for future e-board relationships with those organizations. It does go into effect immediately."
Oliver Pour, a freshman senator from the College of General Studies, and Senate Vice Chair Brigitta Call then proposed a constitutional amendment that would cut down the number of Senate seats for which students can run.
For example, CAS would go from having 11 senators to seven, COM would go from four to two, and the Questrom School of Business would go from six to two. The total number of senators would go from 37 to 27.
Senators in favor of the amendment argued it would lead to increased productivity, make Senate elections more competitive and attract more motivated students to run for seats. Others argued cutting down the number of senators would not solve incumbency issues.
Voting on the amendment was tabled to a future meeting.
Savannah Majarwitz, a freshman senator from CAS, said while she understands a desire to promote more efficient elections, she thinks the proposed amendment would negatively impact CAS, as they are the largest college on campus.
"Overall, CAS is big for a reason, meaning we have around 6,000 students," Majarwitz said. "I think we should be able to keep the number [of senators] that we have."
Alice Lee, a sophomore senator from the Sargent College of Health and Rehabilitation Sciences, said she is glad the amendment was not passed this week because it would have reduced the number of senators for Sargent from three to two.
"It was a tense thing that was brought up really quickly," Lee said, "and so I'm glad that we didn't get to pass it, so that we can have more time to think about it."
Sofia Saric contributed to the reporting of this article.