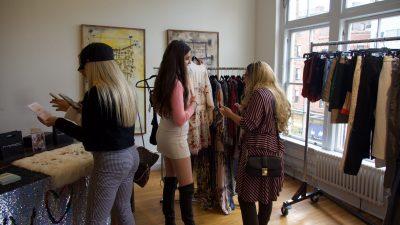 In a two-minute "Get to know our CEO" video posted last week on the Instagram page for Relovv, a sustainable fashion community brand, Alexandra Shadrow offered advice for her younger self, who started out with a vision to make the fashion industry more eco-friendly.
"It's a marathon, not a sprint."
Shadrow graduated from Boston University in 2015 with a bachelor's degree in public relations. Her previous brand, UNItiques, was one of the biggest names nurtured by BU's BUzz Lab, which has now become part of the BUild Lab and [email protected]
Shadrow said after UNItiques ran into investment struggles and shut down in 2017, she gathered all her experience and insight to continue her mission of making fashion more sustainable. She launched the new company, Relovv, in August 2018, and now has startup accelerator Techstars backing her brand financially.
"It was definitely a time to kind of switch gears and not give up on the mission," Shadrow said. "There's a big problem that we are solving, and the solution that I built wasn't the right one."
With two generations of recycling entrepreneurs ahead of her in the family, Shadrow said she believes the idea of sustainability is in her blood.
While her father and grandfather focused on recycling metal from planes and buildings, Shadrow said, she wanted to tackle the fast fashion industry — the second-most wasteful industry in the world after oil.
Shadrow said she sees herself as an activist as much as a businesswoman. On her personal Facebook page, she shares fundraisers and petitions about wildlife, human rights and environmental issues. She said speaking for individuals who can't speak for themselves is part of her activism.
Shadrow began UNItiques at BU in 2015 as a Facebook group called BUtiques, where students could exchange secondhand clothing and other products such as furniture and sports tickets. From there, she said she received guidance from the BUzz Lab and expanded from a local Facebook group to a national website for all college students.
In 2015, Shadrow won first place in the BUzz Lab's New Venture competition. She said this served to provide a lot of press coverage and help the brand grow larger.
Shadrow said it was difficult to brainstorm the next step when UNItiques didn't get the funds to continue. She said investors saw UNItiques as a brand too similar with its competition. This, in addition to other problems like technical issues with user experiences, forced Shadrow to shut the brand down.
"I'm kind of met with this disappointment," Shadrow said. "… I really, really, really tried, I invested tens of thousands of dollars of my own money, years of time. I sacrificed a lot for that position. When you hear that it doesn't work out, you get really sad."
Shadrow said the mission of making the fashion industry more sustainable continued to call to her, so she came up with an idea that would differentiate her from her competitors.
Enter Relovv. When someone puts clothes up for sale on the patent-pending platform, other users can take their clothes to assemble a new look and "relovv" the items. Then, if the user who created the outfit helps the original owner sell their clothes, the curator gets paid by the company.
In 2018, environmental activist and former U.S. Vice President Al Gore certified Shadrow as a Climate Reality Leader.
Ian Mashiter, director of the BUild Lab, mentored Shadrow during her time working on UNItiques. He said Shadrow's determination left a strong impression on him.
"She also had a vision for why she wanted to go with this company, and she's really stuck closely to that and worked very hard to achieve that vision," Mashiter said. "So I feel she's a good role model for a lot of students on campus."
According to Mashiter, when Shadrow came back to BU to speak to students, she talked about the importance of mentoring. Mashiter described her as very skillful and thoughtful in building her networks.
"It's important kind of putting yourself out there, getting advice from people, always not passing up opportunities to exchange business cards for building networks," Mashiter said. "So I think that's a really important skill for students to look at and learn from."
Sophia Wong, a sophomore in the Questrom School of Business, interned for Shadrow during her first semester in college and said she learned a lot from the experience as Shadrow pushed her to do her best.
"She was a great mentor and really motivates interns with her crazy work ethic and cool ideas," Wong said.
Shadrow said she was grateful for all the people who mentored her, adding her next personal goal is becoming a mentor for someone else.
"I have amazing mentors that have helped me so much, and I think I've learned a lot," she said. "I could really help somebody that's during their idea stage. So I've been looking for a mentee, somebody I can really help."