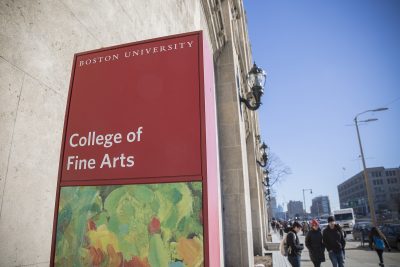 College of Fine Arts students Emma Chrisman and Hannah Hooven co-created the Boston After-School Music Program last fall to bring a weekly music program to students in Roxbury. This spring, they are expanding the program to new locations along with additional advanced music lessons.
BAM began with general music lessons at Higginson-Lewis K-8 school in Roxbury in the fall with the help of the Bird Street Community Center. Due to the success of the program at Higginson-Lewis, the program will now be offered at two of Bird Street's other after-school locations in the city.
BAM is able to provide instruments to its students through grants from CFA, the BU Arts Initiative and Innovate@BU.
Hooven, a sophomore, said on April 14 she and Chrisman, a junior, are holding a benefit recital with CFA performers in Kilachand Hall. The concert will have a recommended donation of $5, and all the money raised will go toward fundraising for new instruments.
Grants and events, such as the April 14 concert, provide the duo with funding for transportation and new instruments — including bucket drums, small xylophones, shakers and, now, ukuleles.
The pair wants to begin offering instruments such as violins, clarinets and trumpets, and Chrisman noted she is planning a pilot modern rock band program in a middle school in Dorchester.
"We are looking into partnering with McCormack Middle School to start that, which is kind of based off the nonprofit Little Kids Rock," Chrisman said. "As beginners, they are immediately playing in a rock band, and [Little Kids Rock] is a hugely successful nonprofit that does programs within public schools."
Chrisman will be trained by Little Kids Rock, a national network of K-12 teachers that bring music education to students, in May.
CFA Director of Arts Leadership and Innovation Jeannette Guillemin, who has worked with BAM, wrote in an email the arts are an important vehicle for students to build connections, spread joy and ignite their collective creativity.
"It is so valuable for students to gain this experience in their formative years," Guillemin wrote. "Everyone should have access to the arts, and this program brings music to students who would not otherwise get this exposure in their schools."
Chrisman said CFA is a tight-knit community, and that is part of what has made BAM possible.
"Without CFA, I don't think we would be up and running now just because we get volunteers and guest musicians to come in and demo with interactive presentations," Chrisman said. "That support from our friends, colleagues, undergrads and grads has made the whole thing possible."
Guillemin added BAM is expanding and scaling its model to more locations.
"The goal is to create a pipeline so that there are new students that will come in and take on leadership positions as Emma and Hannah get closer to graduation," Guillemin said.
Chrisman and Hooven have been mentoring and training new student teachers, Hooven said, so they can have a bigger staff in order to meet more students' needs.
"Hopefully, next year's class of incoming freshmen will have a couple of people like that who are really interested," she said, "so it's really gradually giving them more and more responsibilities until they can fill the role."
Chrisman said BAM has recently been incorporated as a nonprofit so that the program could budget its incoming money more efficiently.
"We're a separate entity from BU but definitely still tied, so we're going to see where we are in a couple years," Chrisman said. "The partnership with BU is really valuable, but it's not to say that me and Hannah are going to ditch out on the program [after graduating] because we really believe in it."