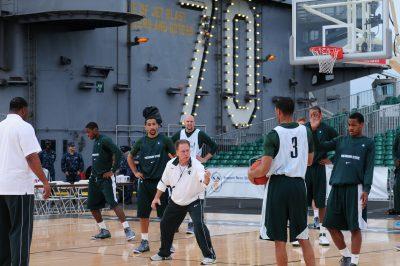 It may feel weird, but this weekend there will be no Duke in the Final Four. There will be no North Carolina, no Kentucky, no Kansas, and did I mention that Duke won't be playing?
For the first time since 2013, none of those blue bloods are still standing going into the final weekend of the college basketball season. I don't know about you, but I find it very refreshing.
This year it will be one of Michigan State, Texas Tech, Virginia or Auburn cutting down the nets in Minneapolis, Minnesota. Unlike in the past five years, there really isn't any reason to hate any of these teams.
Duke coach Mike Krzyzewski won't be seen with a sly smile on the sidelines, ready to fake a back injury at the drop of a hat. The camera won't pan to a bunch of preppy, spoiled UNC students.
University of Kentucky coach John Calipari won't be pompously roaming the sidelines, refusing to accept his team did something wrong. No one expected the University of Kansas to make it anyway.
This might be the best Final Four ever. Four likeable, hungry teams are ready to show the world what they're made of.
Virginia
As the last No. 1 seed left, Virginia currently sits as the favorite to win the NCAA Tournament this year. After losing to the University of Maryland-Baltimore County in the first round last season, they have gone from making bad history to making good history.
After coming back to beat Gardner-Webb University in the first round this year, the 'Hoos shut down the University of Oklahoma, squeaked past the University of Oregon and then won an all-time classic Elite Eight game versus Purdue University to get to their first Final Four since 1984.
Virginia has never won the national championship, so a win this season might cement the 2019 team as the greatest in program history. After what happened last year, winning the big one would make for one of the best stories in all of sports.
On the court, Virginia runs a very slow game and so far in the tournament has relied on three-point shooting and offensive rebounding. Starting big man Mamadi Diakite, who made the buzzer beater last weekend to send Virginia into overtime against Purdue, has been their most important player on the offensive end.
With the slow pace on offense, Virginia also relies on its defense to carry the team to victory. Guards Kyle Guy and Ty Jerome are two of the best players in the country at getting into passing lanes. Forward DeAndre Hunter is one of the top on-ball defenders in the league. Diakite serves as the enforcer down low, blocking shots and grabbing the majority of defensive rebounds.
As has been the case all season, if Virginia can get an opponent to play to their pace, then they are unbeatable. Unfortunately for the Cavaliers, they may have drawn the worst possible matchup.
Auburn
At this point, Auburn University is playing with house money. They have already advanced further than any other team in program history, and these 2019 Tigers became just the second Auburn team to get into the Elite Eight. Still, this isn't a team that is just happy to be here.
After winning the SEC Tournament, Auburn has more or less run past every opponent they have faced in the NCAA Tournament. They have only gotten better with every game, with their closest game coming in a one-point win in the first round against New Mexico State University — only to beat No. 1 seed University of North Carolina by 17 points a week later.
And unlike their opponent, Virginia, Auburn loves to push the pace. An ideal possession for the Tigers would last about 10 seconds and result in a wide open three. No other team shoots more from outside than Bruce Pearl's club, with dynamic guards Jared Harper and Bryce Brown leading the way on offense.
One thing going against Auburn is they will be without starting forward and arguably top player Chuma Okeke after he tore an ACL in the Sweet 16 game against UNC. While they were able to beat Kentucky without Okeke, Virginia faces a new challenge.
There was a sense of familiarity with Kentucky — Auburn had already played them twice before this season. Virginia is a slightly bigger team, especially with Okeke out, with more experienced players and a bigger chip on their shoulders. Auburn might be able to push the pace, but if they can't rebound the ball and also make threes, then they have little chance to win.
Michigan State
Even though Virginia is the technical favorite, the Spartans have a very simple case to be made that they are the top team remaining: they have the best player and most experienced coach left in the tournament. Point guard Cassius Winston has had no trouble translating his superb regular season play into success in the NCAA Tournament.
In every tournament game so far, including a win against No. 1 overall seed Duke in the Elite Eight, Winston has scored at least 13 points and dished out at least four assists. Overall, he is averaging 19 points and 7.6 assists to lead the Michigan State offense.
Even though any chance the Spartans have of winning lies on his shoulders, they have every reason to believe that Cassius will come through. With a calm demeanor and relaxed playing style, not much — if anything — can get the 6-foot-1-inch floor general off his game.
On the sidelines, head coach Tom Izzo will be making his eighth Final Four experience. Izzo coached the Spartans to a title in 2000, but is an underwhelming 3-8 in Final Four or NCAA championship games.
Getting to 11 of these games is an accomplishment in its own right, but I'm sure Izzo would be the first to tell you that getting close so many times and coming away with just one championship is a disappointment. Despite the experience, there will be no one hungrier for a win than Izzo and Michigan State.
Texas Tech
Like Auburn, the Texas Tech Red Raiders have also accomplished the first Final Four stint in program history this season.
After failing to make the Big Dance from 2008–15, head coach Chris Beard has led Texas Tech to the NCAA Tournament in three out of the last four years, making the Elite Eight in 2018 and now the Final Four in 2019.
After losing lottery pick Zhaire Smith to the NBA and multiple seniors from last season's team, the Red Raiders weren't even picked to finish in the upper half of their conference, let alone even make the NCAA Tournament.
But behind the nation's top defense and one of the country's top players in Jarrett Culver, Texas Tech has as good a chance as any team to walk away victorious on Saturday or Monday. Their Final Four matchup with Michigan State pits Culver against Winston — a battle between the two best players left.
Whichever one of these point guards plays the better game will more than likely determine the outcome. And although Winston has been the more consistent player, Culver can reach deeper and play more of a complete game than anyone left on the court.
If the hometown sophomore can play his A-game on Saturday, then Texas Tech will have a chance to make even more history for a program on the rise.