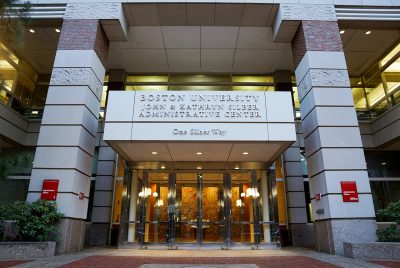 Six years after a report revealed Boston University had a notably low percentage of black faculty, about 2 percent, and Hispanic or Latino faculty, about 3 percent, data from the 2017-18 academic year shows the ratios have slightly increased.
A Bostonia article reported the faculty in 2018 was 3.6 percent hispanic, 3.5 percent black and 0.8 percent multiracial, for a total of 7.8 percent faculty of color.
Since the release of the Data Report on Recruitment and Retention of Underrepresented Minority Faculty in 2012 that showed BU was far behind other Boston area universities in its ratios of professorially-ranked minority faculty, the university enacted a number of measures to increase minority staff numbers.
The university created a Task Force on Faculty Diversity and Inclusion in August 2015, which was tasked with facilitating discussions about how BU could become more diverse and offering recommendations for change.
As of 2015, the most recent year for which data is available, BU ranked 14 out of 17 in percentage of black faculty when compared to its national-level peer groups, which included large universities such as New York University, Northeastern University and George Washington University.
University Provost Jean Morrison said increasing the number of historically underrepresented groups in BU's faculty is a high priority, and there are a number of programs in place to try and increase the rate at which underrepresented faculty are hired.
"We've now got incentive programs in place to help encourage departments to make sure that they recognize the importance of hiring black and latinx faculty," Morrison said, "and that they have the tools they need to ensure that they can identify and recruit those individuals."
BU spokesperson Colin Riley wrote in an email the task force delivered their report in May 2016, and the top recommendation was to recruit an associate provost for diversity and inclusion.
"BU did a national search in academic year 2016-17 and recruited Crystal Williams as our inaugural Associate Provost for Diversity and Inclusion," Riley wrote.
According to BU's website, Williams, who started at the school in October 2017, works and collaborates with academic and administrative leaders to build inclusivity within BU faculty and academic appointees, as well as enhances diversity within higher education's pathways.
The task force report included five major recommendations: appointing a university-wide provost for faculty diversity and an equivalent administrator for each of BU's schools and colleges, creating implementation and standing committees focused on diversity and inclusion among faculty, developing strategic plans for faculty diversity, communicating publicly and regularly about diversity, and creating doctoral-faculty pathways for underrepresented minorities.
Ann Cudd, who was the Dean of College of Arts and Sciences from 2015-18, said the 2016 task force recommendations were the call to action that caused her to create a CAS Diversity and Inclusion Strategic Planning Committee in 2017.
"In 2017, defined underrepresented groups constituted a grand total of 37 persons (5%) from among the CAS faculty of just under 700 people," the CAS Report and Recommendation said. "Of those, however, only 9 current CAS faculty identify as African American, and no one identifies as Native American."
Cudd said she is unsure if other colleges at the university took on their own diversity and inclusion planning, but the 2016 task force specifically instructed colleges to start engaging in planning for diversity and inclusion within their own schools.
"There are a lot of reasons I think diversity is really important especially within an educational environment," Cudd said, "both for reasons of justice, reasons for good education and reasons for innovative thinking."
Morrison said if one looks at all the institutions in Boston, they will find that virtually all of the research universities have fairly low percentages of black and latinx faculty.
"I think for almost all of the Boston-area schools, it is less than 10 percent, and it's a result of a combination of things," Morrison said. "It has to do with the pipeline — [a] thing that happens at a university where faculty hiring, in particular, is very decentralized is that departments tend to want to hire people who look like themselves."
Cudd, who is now the provost for University of Pittsburgh, said every school she has worked at so far outside of BU has had less than 10 percent minority faculty.
"The numbers at the University of Pittsburgh, where I am now the Provost, [has] the whole faculty [at] 6.8 percent underrepresented minority [which is] still not all that great," Cudd said. "The University of Kansas, where I taught before BU, is 8.6 percent, which is better than the others, but still not nearly representative of our national population."
Eva Jungreis, a senior in CAS, is the communications director for the BU College Democrats and wrote in an email BUCD emphasizes the administration's needs to use its power to amplify the quietest voices and guarantee they are heard.
Jungreis wrote BUCD endorse a statement made by member Angelo Schimmenti, a sophomore in College of Arts and Sciences.
Schimmenti said in the email that as a group, BU's faculty is very white, which is not reflective of the level of diversity in the student body, the city of Boston or the entire country.
"A largely white faculty means a largely white perspective, meaning that our university is severely lacking in the nuance and insight people of color could bring to their fields," Schimmenti said. "It also sends a message to students of color and potential student of color about their chances in academia, reinforcing a racist cycle that keeps people of color out of the conversation."