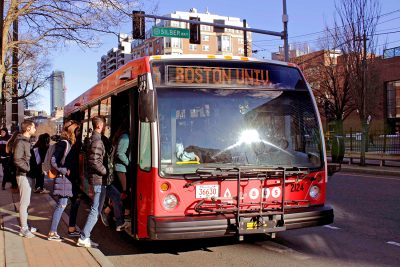 Every day, Boston University's campuses are traversed by a myriad of pedestrians, bikers, MBTA Green Line commuters and motor vehicles. For students who live and go to class on opposite ends of campus, transportation is critical to bridging the gap.
There exists one mode of transportation created to simplify the commute across BU's campuses and at no cost to the BU community: the BU Shuttle. Thousands of commuters use the shuttle to travel to classes, clubs and back home again each day.
Introduced at the beginning of the 2004-05 academic year, the shuttle is primarily designed to serve as the most efficient method of transportation between the Charles River, Medical and Fenway campuses, BU spokesperson Colin Riley said.
When the shuttle began service in 2004, two buses circulated one route with four stops: Silber Way, Huntington Avenue, BU Medical Center and Danielsen Hall, Riley said. The bus operated on weekdays from 7:30 a.m. to 10:30 p.m., and buses arrived at each stop every 30 minutes.
Today, a fleet of 11 buses operates along four routes, Riley said. There are 13 stops between the Charles River and Medical campuses, seven along the Commonwealth Avenue loop, five on the Fenway route and 11 on the late-night route.
According to Riley, the bus now operates with 10–30 minute headway from 7 a.m. to 2 a.m. Monday through Wednesday, 7 a.m. to 4 a.m. Thursday through Saturday, and 7 a.m. to 2 p.m. on Sundays.
This year, the university expects to serve more than two million rides on the BU Shuttle, Riley said. Each bus was fully refurbished two years ago, he noted, and the height of each bus can be adjusted to accommodate commuters with limited mobility.
Riley noted that with such heavy anticipated use, the university is monitoring the shuttle system and working to make sure it does its designated job.
"By and large, those people who are heading to their internships or doing research, either at the Charles River or Medical Campus, getting back and forth for them is really critical," he said. "And we're able to provide that, even though it is a 20-minute or half-hour ride. But it's much better than taking public transportation."
Many commuters, such as postgraduate School of Law student Emily Center, rely on the shuttle every day to get around campus.
"I'm at the law school, and I do the whole week here because I live off campus," Center said. "So I'll come at 8:30, and then walk to the gym and then take it back at 6:30, pretty much every day."
Zach Lam, a junior in the College of Engineering, said he's usually not in a rush to get to his classes but does rely on the shuttle when commuting to West Campus.
"I take it three times a week — I have to go to West for student theater," Lam said. "When I have to go there, I'll take the bus."
Not every student who has taken the shuttle across BU's multiple campuses has had a good experience, especially when relying on it to get to class on time.
Last semester, College of Fine Arts sophomore Liz Klayman would travel from her Fenway Campus residence to a morning class a mile away in CFA. Klayman said she would get on the shuttle headed outbound toward StuVi II but would frequently wait upward of 20 minutes before the bus would begin to move.
"I actually had my teacher's phone number because I was late so often, it was because of this bus," Klayman said. "I mean there was a good thing though — I accidentally left my wallet on there one time, and one of the bus drivers did hold it for me, and I went back on and found it. So that's the only good thing I can say about the bus."
Klayman said she had bonded with one of her classmates, who also lives in Fenway, over their shared experience of being late to class because of the shuttle.
"He'd show up late and be like, 'how'd you get here so fast?' and he said, 'I walked, the bus drove right by me — I had to run to class,'" Klayman said. "I just learned not to rely on it so much, but I guess he didn't at the time."
Center, who lives between the Medical and Charles River campuses and uses the Huntington Avenue stop, said the bus can take a considerable amount of time to get moving going outbound from the furthest parts of BU's campus.
"Sometimes they come really far behind each other," Center said. "Sometimes it takes 45 minutes to get [to Central Campus]. If it takes forever, sometimes I'll take the train. But it's free transportation, so I don't know — I don't have too many complaints."
Riley said the shuttle's schedule can be disrupted by the inevitable effects of living in a city.
"When you're in an urban area with the weather and traffic and construction, [drivers] work very hard to maintain their schedules, but it's not always possible, of course," Riley said.
Students, such as Lam, have expressed frustration over the BU Mobile app, which allows users to access the bus schedule and view estimated arrival times for each stop. The app, which is only available for iPhones and not on Android, also has a live GPS view of where each bus is at a given time.
In the App Store, the BU Mobile App is rated 1.5 stars out of 5 from a total of 15 reviews. One of the most recent reviews, posted in November 2018 by a user named "hdude10," states the app is "unreliable."
"Most buses don't even appear on the map!," the review states. "There is also no indication for when a bus will go 'Out of Service.' This means that when you finally find a bus that is actually on the map, there is a good chance you're going to be denied entry to it when it arrives."
The GPS tracking system, which was released in February 2010, is something BU Parking and Transportation Services is working to make more efficient, Riley said. Commuters can also access the live view on the shuttle's website.
"[Parking and Transportation] definitely want[s] to make sure that the tracking is working for people who are essentially, probably waiting for the stop for it," Riley said. "Sometimes, of course, because of delays they may think they just missed the bus when in fact it was the previous bus that was just leaving there — not the one that is expected at the time going there."
Announcements regarding delays, maintenance issues and other updates are sent out regularly on the shuttle system's Twitter, @BUShuttle, which has about 2,800 followers.
Rubén Cerón Guevara, a Colombian architect and program manager at North Shore Community Development Coalition, has designed bus transportation systems in Colombian cities, including Medellín, Bogotá and Cali. He said he sees the BU shuttle as a promising component of Boston's transportation network, which ultimately makes commuting more multimodal.
"If you look at the structure of the BU shuttle network, it's pretty interesting how much they overlap with the MBTA and how much we are affecting transportation in a very short segment of a main road, such as Commonwealth Avenue," said Cerón Guevara, who also works in the Metropolitan College.
Transportation that makes up for the inefficiencies of other existing methods is something that defines a well-circulating urban space, Cerón Guevara said. He noted from his own experience the BU shuttle gets him to time-sensitive destinations with fewer stops and in a shorter time than the Green Line does.
Sebastian Porreca, a freshman in the College of Arts and Sciences, said the shuttle is valuable to the community despite being undependable. Porreca said he doesn't usually rely on the bus and likes to make time to walk where he needs to go.
"Especially with a city campus, I think it's important to have a school-sanctioned means of transportation because not everyone has the means to call an Uber or get a T card whenever they want," Porreca said. "[The shuttle is] not the most convenient thing in the world, but it's trying its best — I feel like it's the most accurate and doing the best that it can be."
According to Riley, the shuttle was designed for students to travel between campuses or make a long trip down BU's two-mile Commonwealth Avenue strip. He said he wants students to understand its original purpose wasn't to make short trips that could be done by foot.
"I understand people depend on it, but I want people to realize what it was designed for, so as they are waiting for it, they're not frustrated." Riley said. "But it's the same thing I guess if you're waiting for the T — you experience the same type of frustrations particularly if you didn't give yourself 10 minutes to get to class."