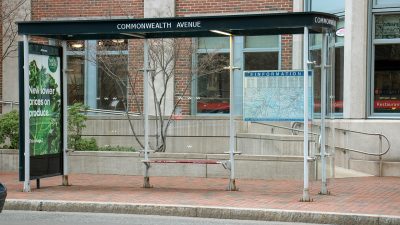 The MBTA is looking to strengthen its bus service and boost ridership by adding more shelters and adding benches throughout the greater Boston area.
Officials from the agency presented a preliminary proposal to T's Fiscal and Management Control Board on Monday. They plan to double the number of bus shelters and benches, add real-time arrival displays to 90 percent of journeys and establish "clear and enforceable roles" for maintaining these amenities, according to the presentation.
The T plans to begin construction during the 2020 fiscal year and hopes to finish this network buildout within three years, the presentation states.
Evan Rowe, the T's director of revenue, said at the meeting Monday that customer feedback has shown that riders believe installing better amenities would make bus service "more competitive, safer and more comfortable."
"It's not rocket science, but listening to our customers shows that it really makes common sense," Rowe said in the meeting. "Benches, shelters, real-time information, lighting, maps, these are the kinds of things that will help MBTA bus service stay competitive and provide people with a better experience."
Additionally, Rowe said research from the University of Utah showed that "enhanced and improved bus stops" grow ridership by enticing new riders to try the bus, while research from the University of Arizona proved that waits at stops without amenities felt more than 1.3 times longer to riders than they actually were.
Rowe said many MBTA bus stops were in bad condition and needed maintenance and improvement to better serve passengers.
"… There's not a consistent or understandable rationale for the way that shelters and other amenities are distributed," Rowe said. "It leads to an inconsistent experience that our bus passengers encounter as they make their journeys on a day-to-day basis."
Currently, the T has around 640 bus shelters, according to the presentation, which constitutes less than 10 percent of the total number of 7,810 stops.
The T controls around 340 of these shelters — it owns and maintains around 170 total bus stops independently with the other 170 jointly owned and entirely maintained by contractor JCDecaux, a company that specializes in outdoor advertising.
Rowe said the T's 15-year contract with JCDecaux is expiring in December, so the agency will be able to rethink its program and make significant improvements to the network's bus stops.
Stephanie Pollack, secretary and CEO of the Massachusetts Department of Transportation, said at the meeting the T needed to create a new and improved partnership with a private company and that she did not want potential advertising revenue to control where shelters were placed.
"There's three main reasons," Pollack said. "There weren't enough [shelters] out there — we want more than 170. Second is they were taken care of really poorly, and we want a different maintenance model. And the third is we want to control where the bus stops go based on equity considerations and based on ridership."
However, T officials acknowledged at the meeting there were several potential challenges that they would have to overcome to accomplish this plan.
Rowe said the T would have to work with local municipalities to pay for the operating expenses of each shelter, as the agency currently estimates it will cost around $70,000 to maintain a shelter for 10 years. This exceeds the estimated installation cost of $40,000.
"If we don't pay attention to how [shelters are] maintained, the bulk of the cost is not installing the shelter," Rowe said. "The bulk of the cost is in the scheduled maintenance, the incidental maintenance, the snow removal and all the other elements that really make up the bulk of the cost."
Marta Trzcinska, 24, of Brighton, takes the 57 bus home and said she thinks the proposal is a good idea, as the T could install more shelters to help mitigate overcrowding of bus stations during rush hour times.
"It's very packed, especially during the morning times," Trzcinska said. "I think the MBTA doesn't really have a system yet, so if they want to bring in more [shelters], I think that would be a great idea, especially for someone like me who only rides public transportation, they need to be more people-friendly."
Brighton resident Alex Powell, 40, said he takes the 57 bus home and thinks installing real-time arrival displays and bus shelters would better serve the T's customers and increase ridership.
"I think that a lot of us have apps on our phones to check the time, but not all of us have that," Powell said. "So in terms of promoting equity to the people of Boston, I think that would be good. And obviously installing shelters, especially with bad weather, would make it more conducive for people to ride the bus."
Michael Durant, 26, of Brookline, takes the 60 bus home and said while he did not think bus shelters were as much of a problem, he did support the greater use of real-time arrival displays.
"I've always been a big fan of the real-time arrival screens," Durant said. "And if that would actually reflect the real time it would actually arrive and that it would be consistent with what is displayed on the screens, I would like to see that."