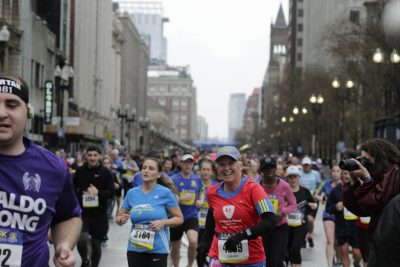 Laura Buso biked out to Commonwealth Avenue early Saturday morning, stopping at the first mile marker for the 2019 Boston Athletic Association 5K in Back Bay. Buso is a member of a local athletic club, the Somerville Road Runners, but she wasn't at the marker to race.
Instead, sporting a yellow T-shirt and shaking noisemakers, she kept her eyes on a few particular runners, cheering their names as they passed by.
"I love running because it can be accessible to anyone, regardless of physical ability or skill," Buso said. "Anyone can be a runner."
Buso is president of the Boston chapter of Achilles International, an organization that pairs volunteer "guide runners" with member athletes who have a disability. The guide runners "function as member athlete's eyes, ears, guide, and motivator," according to the Boston chapter's Facebook page.
Achilles Boston also hosts weekly groups runs on Friday evenings in Lowell and Saturday mornings on Newbury Street in Boston.
Selvie Mulaj is a former Achilles athlete who now works at the organization's New York City headquarters. Mulaj said she completed the New York City Marathon twice with the help of Achilles International and is proud to see other athletes and guides doing the same.
"People start chapters of Achilles all over the world," Mulaj said. "They help disabled people do marathons and runs, but it's also a social place to meet up with your friends."
The original Achilles chapter was founded in New York in 1983, and the Boston chapter was founded in January 2013, just months before the Boston Marathon bombings. Buso said the organization's New York headquarters wanted to make sure the Boston community was especially supported after the bombings.
Buso said she has been a guide runner for the past five years, helping with marathons, half marathons, 5K and 10K runs.
Working with both Achilles and the Somerville Road Runners, Buso is familiar with many people in the Boston running community — so much so that she said her friends sometimes jokingly call her "the mayor."
"Successful guide running is all about trust," Buso said. "You have to trust your partner, the person who is running with you — communication is a really big part of it."
Buso said athletes with disabilities face challenges during races that able-bodied athletes don't always necessarily think of. Guide runners are responsible for keeping track of their athletes, she said, encouraging them and making sure they have enough space.
"A lot of people use the BAA 5K as a warm up for the Boston Marathon," she said. "For the majority of the race, it's incredibly densely packed and because it's raining today [Saturday], the road will be slippery. Also, in races like this where people are sometimes listening to music while they run, they don't always hear you coming."
Jason Savageau, one of Achilles' athletes, ran the BAA 5K with guide runner Lori Chong to prepare to run the full marathon. Savageau, who has a visual impairment, said he would run the marathon with two guides, who would switch off halfway through the race.
"I took it very slow-paced, and my guide runner kept me upright and on pace and made sure I wasn't burning out my energy before Monday," Savageau said. "The guide and athlete both have to understand what's important to the athlete. For me, I have more usable vision than a lot of completely blind runners, but with that said, it's important that they understand what I need help with."
Savageau said he has been running with Achilles for the past two and a half years.
"Achilles is always trying to recruit new faces, and when someone shows up, they're part of the family already," he said. "It's important to support everyone's efforts to get out there, whether it's an experienced runner who wants to show someone how to run safely or a person looking for a guide to help them run safely and have fun while doing it."
Buso also ran the full 26.2 miles Monday but said she didn't want to make it a big deal — she only told a few people.
"It's not really about me," Buso said. "I almost wish I could be on the side cheering on Jason."