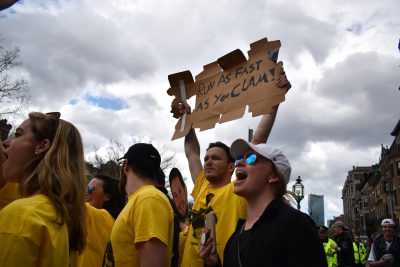 While Massachusetts may contribute the most runners to the Boston Marathon — with 4,758 competitors hailing from the Bay State in 2019 — the annual race still attracts contestants and their families from across both the country and the world.
As the Boston Marathon is widely considered one of the most prestigious and competitive races in the world, simply qualifying for the race is a celebrated accomplishment for many. In recent years, the race has brought in around 30,000 athletes and some 500,000 spectators to cheer for them, according to the Boston Athletic Association.
This year, the marathon's official qualifying time for men ages 18–34 was 3:00:08, while the time for women in the same age group was 3:30:08, according to the BAA.
Elena Lopez, 29, came up from Baltimore, Maryland, with a group of family and friends to support three runners: her fiancé, John Hunyara; her brother, Alejandro Lopez Ortega; and her close friend, Maxime Chevée. Lopez said all three competitors were ecstatic to qualify for the marathon this year.
"They were so excited. For John, this is the second time that he runs this marathon. For Maxime and Alejandro, it was the first time," Lopez said. "And they were just so excited for it. If you're training for a marathon, this is your dream — to qualify for Boston."
Lopez said each of the three runners followed an intense training regimen to prepare for Monday's race and that the entire family did what they could to support them both before and during the marathon.
"The training is a lot of time, going for long runs in the weekends and during the week, going out for short runs before they get to work, it's like another job," Lopez said. "We just support them with their long hours training and everything and just push them forward. They are very motivated themselves, so just being here and supporting them and cheering them."
Lopez said her runners represented three different nationalities, as Chevée is French, Lopez Ortega is Spanish and Hunyara is American.
Patrizia Russo, 43, and Lina Fernandes, 53, flew in from Toronto, Canada, and hoisted a two-foot tall cardboard cutout of their cousin Michael Auciello's face as they cheered for him. Russo said Auciello had failed to qualify for Boston for several years before he posted a fast enough time at the Ottawa Marathon.
"He's been trying for the last four years," Russo said. "He was just so happy and relieved and just really excited [when he qualified]. It was priceless."
Fernandes said Auciello trained extremely hard to make it to the Boston Marathon and that this year was his final attempt.
"He trained for 13 weeks, and he ran anywhere from 85 to 100 kilometers a week," Fernandes said. "It was pretty intense, and before qualifying, he had tried qualifying three other times, so this was the last chance — he was giving him one more chance to try — and he did it."
Russo said both she and Fernandes were very proud of what Auciello accomplished and that Auciello had taught them a lot about motivation and perseverance.
"I definitely think the one word to describe him would be perseverance because he had it right through," Russo said. "There were times where he almost wanted to give up, not qualifying, but he did it. Quitting wasn't an option for him, and he showed us all that if you really want something, you can really achieve it."
Veronica McMenemy, 71, traveled to Boston from Dublin, Ohio, to cheer on her husband Jerry McMenemy while he ran his 12th consecutive Boston Marathon. She lofted a pole into the air covered with clear packing tape and holding several partially deflated blue and yellow balloons as she cheered for the runners.
"I found that standing this many people deep to see your person pass, they can't find you," McMenemy said. "So I hold this way high up in the air, and he can see me. … You hold them high up, and you try to elbow your way to the front of the gate, and your person can see you."
McMenemy said she has waved her balloon construction in the air every year to support her husband's efforts in Boston. This year's balloons "didn't look so good," she noted, because they had deflated overnight.
Lopez said if she could speak to the runners who might be struggling to finish the marathon, she would say just one bit of encouragement.
"This is your dream, so just keep pushing," Lopez said. "The finish line is right there, and you're going to feel so good when you cross that finish line."