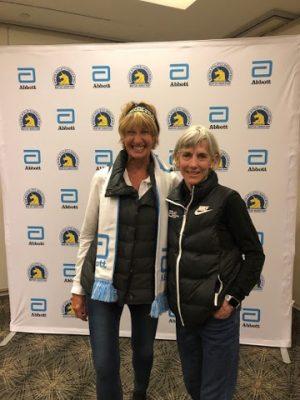 For Darlene Corkrum, a 66 year-old runner from Seattle, Monday's Boston Marathon was both just another marathon and, at the same time, a special marathon. It was Corkrum's 30th lifetime marathon and her sixth and final peg in the Abbott World Marathon Majors.
Corkrum, senior vice president and chief marketing officer at Virginia Mason Medical Center, said she has been an avid marathon runner since her 40th birthday, when she decided to challenge herself with a new goal of running a marathon.
"For some reason 40 seemed like a really old number," Corkrum said. "I thought about training and running a marathon because it just sounded awesome."
Three weeks before turning 40 in 1990, Corkrum said she ran the Portland Marathon in Oregon.
"It seemed like a counter to the fact that I was turning 40," she said.
Kerri Corkrum, Darlene Corkrum's niece, said watching her aunt achieve her marathon-running goals was incredible, though unsurprising.
"As far back as I can recall she has been determined and energetic," Kerri Corkrum said. "Although the number of marathons doesn't surprise me, what I think is remarkable is that she started running marathons at the age of 40 and has done that many since then. When more people are slowing down, she's out there running marathons."
Jason Corkrum, Darlene Corkrum's son and a Boston University alumnus, said his mother always has a positive attitude and drive.
"My mom has always been one of those people who can set her mind to something and just go out in the world and accomplish it," Jason Corkrum said. "It's a rare and enviable quality."
For most of her 30 marathons, Darlene Corkrum said she has had a running partner who has helped keep her attitude high.
That partner is Stephanie Axelrod, who said she met Darlene Corkrum through Team in Training — an organization that trains people for endurance sports, such as marathon running, and raises money for the Leukemia and Lymphoma Society.
Axelrod spoke about the importance of finding a partner to train and race with.
"Having a running partner has made me continue running," Axelrod said. "It is very doable to run a marathon by yourself because you are not by yourself. In Boston, I am one of 30,000 runners, so you are not alone out there. But you are alone when you are training."
As Darlene Corkrum completed more marathons, she said she continued to learn more about the community of runners that come together during each race.
"Marathons have a 'wow' factor for people in all walks of life," she said. "There is something special about running, the endurance, endorphins and achievement. It is a special community."
After completing 19 marathons, Darlene Corkrum said she told her husband, "I don't want to stop running at 19" because "I don't like that number."
"It sounded like an odd number," she added, "and I needed to at least run 20 marathons."
After that, she said her husband began researching international marathons that she could run.
It was during her time at the Berlin Marathon that Darlene Corkrum said she discovered the Abbott World Marathon Majors, a series of six of the largest and best-known marathons in the world, including New York City, Berlin, Chicago, Tokyo, London and Boston.
"After running Berlin, I decided I really wanted to do this," she said. "I don't know if I really thought I was going to do all six, but it has been something that has kept me going."
Darlene Corkrum noted she was particularly excited to be running such a storied race in Boston.
"Boston is the pinnacle," she said. "If you are going to run a marathon, it is the pinnacle."
Recalling his time as a student at BU, Jason Corkrum said in the past he was able to experience the Boston Marathon for himself. This year, he said he'll be watching and following along with the race to cheer on his mother and all the runners alongside her.
"I have great memories of watching the runners come through South Campus on Patriots Day," Jason Corkrum said.
Darlene Corkrum noted that during a race, marathon runners are less focused on competition and more focused on community.
"It is pretty interesting that you can run 18 miles and stay within the same grouping of people," she said. "Sometimes people surge or move ahead while others may stop at a water stop. Five miles later, you will see them again, and you do bond. You become a part of this community."