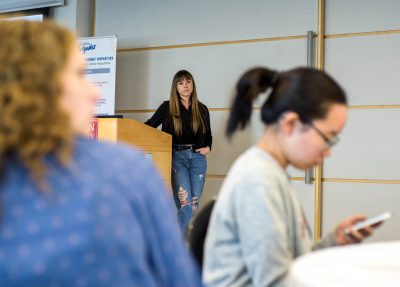 Students, speakers and volunteers gathered at Boston University for the 2019 Global Brigades Northeast Regional Student Leadership Conference early last Saturday. They came ready and eager to discuss student leadership and strategies to further sustainable development.
Global Brigades is an international nonprofit that aims to empower under-resourced communities and help them sustainably transition out of poverty. The organization does this through an approach that focuses on seven different facets of community life: medical services, public health, water, engineering, legal empowerment and business, according to their website.
To achieve this goal, Global Brigades sends volunteers abroad on a "brigade" style mission, in which they generally spend between one to three weeks in a community, working in whichever facet of community life aligns with their interests or area of expertise.
Saturday's conference included students, staff and volunteers. Collectively, they discussed what it means to be part of the organization that is centered on sustainable global development and empowerment, and they looked at how to take steps to further that goal.
Guests at the conference first listened to speakers who expanded on Global Brigade's "holistic model" and how it is intertwined with sustainable development. Next, guests participated in breakout sessions to discuss new ideas and practices, as well as give their own input on how they can impact the world around them.
Shivani Rao, a junior studying human physiology in the Sargent College of Health and Rehabilitation Sciences, is the campus fundraising chair for Global Brigades at BU and was involved in coordinating the conference, she said.
"What really motivated me to put together this conference is just the immense number of ideas that come out of it, where all chapters and universities feel like they came out of it learning something new," Rao said. "I myself have gotten some new ideas I want to roll out with my chapter, so I hope other people experienced the same thing."
According to Rao, it's important for both students and professionals to realize the work they're doing extends beyond just themselves and is likewise affected by a number of outside factors. This makes understanding the Global Brigades' holistic model of development even more crucial, she said.
"Global Brigades really gives people a way to not only do service, but also learn how to make their service as effective as possible," Rao said.
The conference featured three speakers from the Global Brigades organization: Pablo Garron, the international program officer; Nicole Jollimore, the U.S. volunteer engagement manager; and Alexa Schmidt, the U.S. senior marketing manager.
One of the main goals of the conference, according to Jollimore, was to enable students to see the broader impact of their actions by bringing everyone together to discuss some of Global Brigades' big picture goals and impacts.
"I want to make sure that the volunteers leave with an understanding that they are a part of an actual sustainable development organization that's working year-round, has big-picture sustainable development goals, and that it's not just a one-off trip," Jollimore said. "They're part of a much larger impact."
During the conference, the speakers explained how, for students looking to make a difference, it's not just about the specific time they spend volunteering, but how that time makes a permanent impact on the community they spent it with.
They said Global Brigades enables students to not only make a change and do good work in a temporary sense, but it also enables them to make a lasting impact in the community they're working with.
"It's super important for college kids to get involved in something like this because it will ultimately shape their life," Jollimore said.
Madalena Cardoso, a sophomore studying biology in the College of Arts and Sciences, attended her first brigade in January of 2019, when she went to Honduras, and she attended the conference this Saturday.
"Everyone always says we are the leaders of the future," Cardoso said. "But in order to do that we need to start somewhere, to learn. There's no better place for that than as a student."