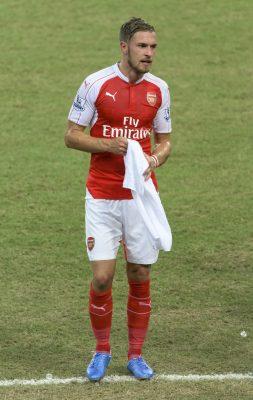 "Once Aaron starts scoring, he won't stop," former Arsenal manager Arsène Wenger once said about Aaron Ramsey, his midfield prodigy, at a time when every goal the Welshman scored had to be treasured and put on DVD.
Wenger knows.
A strong goalscorer since his breakthrough year in 2013, Ramsey is exceptional at the byline for a deep-lying midfielder who's not even on penalty duties. He is the fulcrum of the midfield in this new Arsenal era and is the only player in their ranks capable of routinely dismantling a defense.
He's also one of the senior figures of the squad, and with three FA Cup wins under his belt, is a crucial part of the Arsenal DNA and future club captain material. This is why it's baffling that next season the Welshman will be plying his trade with Juventus in Italy, donning the colors of the Bianconeri.
Ramsey's relationship with Arsenal fans has been a weird one. Largely, that's because we'd never seen a midfielder like him before. He lacked the passing range that Jack Wilshere and Cesc Fàbregas possessed, and he wasn't graceful like Tomáš Rosický or imposing like Patrick Vieira.
After his return from his horrific injury at Stoke City, he had the sympathy of the fans but not their trust. The problem with Ramsey in those early years of 2012-13 was that he tried to do too much.
He'd break down every flowing move with a needless pirouette, or a wasteful Cruyff turn at the halfway line or sometimes an overly ambitious shot from an impossible angle.
There's one game in particular that stands out jarringly in my memory — it was a routine home match against Queens Park Rangers in 2012, and Ramsey had an absolute howler.
Granted, he was deployed out of position on the right of a midfield three, but the Welshman barely completed a rightward pass. The usually docile Emirates crowd made their frustrations apparent, eventually forcing Wenger's hand at having Ramsey substituted out.
Personally, I didn't think Ramsey would last beyond that season. I'd have been happy to drive him out of North London myself. In fact, I remember putting up a particularly vile status update on Facebook about Ramsey after the QPR game.
One year on, he was my display picture.
It was his unorthodox technique that eventually made him successful at Arsenal. He toned down some of the unnecessary flair and focused more on doing the simple things like passing the ball.
Last week against Napoli in the Europa League, Ramsey did what he's been doing all these years: starting off moves from deep in the half, racing into the box and finishing off moves he created with aplomb.
Arsenal manager Unai Emery made a decision on Ramsey very early on and made it clear the Welshman wasn't part of his plans for the future. To his credit, Ramsey accepted the situation, put his head down and continued to persevere, as he always has.
Now, he has changed Emery's mind and cemented his place in the starting 11. Still, no matter how much the Spaniard sings his praises, it's already too late.
The Welsh maverick has his bags packed for Italy. From the look of his recent performances, it looks like he is set on leaving his new side with countless memories and hopefully some silverware.
Juventus doesn't know what they're gaining.