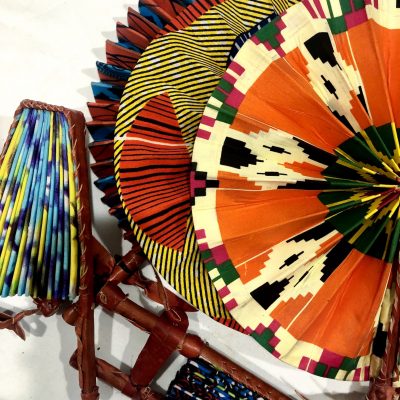 Beaded bracelets, metallic necklaces and colorful earrings lay scattered on long tables covered with a black tablecloth. Patterned clothes and handbags hung nearby. For an afternoon, a section of the Holiday Inn Express in Dorchester was transformed into a vibrant fashion boutique.
Tribe of Dumo, an African-inspired fashion brand, hosted the pop-up on Saturday, April 13. Originally launched in Houston in 2015, the shop has made several stops along the East Coast and has more planned for cities such as Pittsburgh and Washington, D.C.
The line, originally known as Afro Kouture, features African-inspired fashion and accessories such as Tribe of Dumo's signature Nzinga Dress, which were on sale for browse and purchase at the pop-up shop on Saturday.
A wide array of accessories from earrings and purses to traditional African headpieces and necklaces were also on sale and placed sporadically around the pop-up shop.
Tribe of Dumo is the brainchild of sisters and co-founders Ijeoma Odumodu and Chioma Osibodu. Inspired by their cultural roots, Odumodu and Osibodu said they created Tribe of Dumo as a platform to honor and share their heritage with the rest of the world.
Both sisters said they were inspired by their mother to pursue the fashion industry. As they grew up, they followed different paths — with Osibodu pursuing health and medicine as a nurse practitioner and Odumodu heading into the world of arts and fashion.
It wasn't until after college and several years of living in the United States that the sisters decided to team up and form their now widely recognized fashion line, Odumodu said.
"I'd say we never really planned it," Odumodu said. "We had worked on several business ideas in the past. Once I migrated to the USA to complete my bachelor's in arts, we had the conversation again, and we both realized we were each other's missing piece."
"Dumo," derived from the family's West African last name, translates literally to "lion" and symbolically to "strength," according to the brand's website. Odumodu said the sisters envisioned their fashion company as a medium to promote female empowerment and strength.
Osibodu said her vision for Tribe of Dumo is to empower women in everything from business to education.
The fashion line features pieces with bright, bold patterns that often have names inspired by powerful women, Odumodu said. The brand's statement clothing and accessories are visual representations of the two sisters, she said, and embody their support of female empowerment.
Odumodu specifically pointed out what she said is the line's most popular and most loved piece — the Nzinga Dress.
"It was the piece that catapulted us into the fashion industry. … It was daring, bold and bright,"  Odumodu said. "Queen Nzinga [was] a very powerful, Angolan queen whom we all aspire to be."
The sisters said they view Tribe of Dumo as an outlier, a set of products that stray away from mainstream fashion. That distinction is an asset, Osibodu said, which further diversifies the ever-evolving fashion industry and society.
"I'd say Tribe of Dumo is here to showcase the beauty in color and print emanating from Africa," Osibodu said. "We are simply breaking into a totally new category in the fashion industry."
Both sisters said they hope to be a role model for other entrepreneurs and immigrants who dream of succeeding in the United States. As immigrants from Nigeria, both sisters said they know and understand first-hand the rigors of not only coming to America, but fulfilling their goals in the business arena.
"I wanted to be that example of success — an immigrant who migrated to the U.S. 16 years ago and was able to accomplish my goals and my dreams," Osibodu said.
Osibodu said the sisters' end goal is to further expand Tribe of Dumo and one day take the fashion line international. They are also the co-owners of Bosses in Heels LLC, a for-profit entity that focuses on women's empowerment in the areas of business, education and mentorship.
Through both of these platforms, Osibodu said they are able to promote this message of empowerment.
"We believe in the power of giving back to the society who raised us and the ones who continue to uplift us," Odumodu said.
Chelsea Akubo, a freshman in Boston University's Sargent College of Health and Rehabilitation Sciences and a member of the African Student Organization, wrote in a text message she hopes "Tribe of Dumo" is an indicator for the future of the fashion industry.
"African-inspired fashion is honestly the most beautiful forms of fashion I've seen," Akubo wrote. "I truly believe African-inspired fashion is the future, that is, if it isn't the present already."