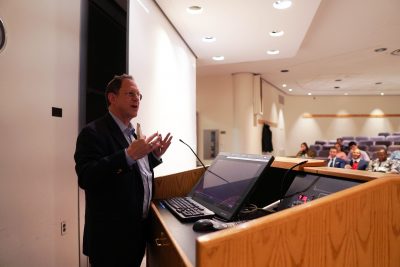 Activist and entrepreneur Yosef Abramowitz sits down each week to examine his family's carbon footprint, quantify how many trees it's worth and pay to have that many trees planted to keep a carbon-neutral home.
Abramowitz — a Boston University alumnus who graduated in 1986 — gave a talk titled "Earth Day, Israel, Africa, and How to Win the Climate Battle" to the BU community Tuesday evening, in which he discussed solar energy and sustainability efforts in Israel and Africa.
Abramowitz graduated in 1986 with a major he created that he named Jewish Public Policy. During his time at BU, Abramowitz said, then-university president John Silber and the BU administration were hostile toward him.
"I had a great opponent in Dr. Silber," Abramowitz said at the talk.
Abramowitz took a course called "Burden, Privilege and Responsibility of Rebellion" with BU professor and Holocaust survivor Elie Wiesel, which was about "the necessity to challenge," Abramowitz said. They discussed two major issues at the time in this class: freedom of Jews from the Soviet Union and the apartheid in South Africa.
Tension between Abramowitz and Silber's administration reached a peak when he hung a banner that read "BU DIVEST" from his dorm room window to encourage BU to divest shares it held in South African companies.
The university evicted Abramowitz from his dorm and threatened him with expulsion after he refused to take the banner down. Abramowitz took the case to the Middlesex Supreme Court and won.
Abramowitz and his wife, Susan Silverman, who he met at a protest at BU, decided to move from Newton to Israel in 2006 with their five children. Upon their arrival to the small community of Kibbutz Ketura in the Arava Desert, Abramowitz said they were struck by the intense heat. It was disorienting, he said, "burning us to a crisp."
Abramowitz recalled having assumed the town was powered by solar energy, but to his surprise, he was told there was no solar power being generated in the area.
"Poor Susan," he said at the event. "In the first minutes [we're there], I have this crazy scheme."
His goal, he said, was to reach 100 percent renewable solar energy by 2020, stretching from the Red Sea to the Dead Sea. His plan, however, was received with much hesitation and skepticism, he said.
"We took down apartheid, we freed the Jews of the Soviet Union," he said. "This one was going to be easy."
Abramowitz co-founded Arava Power, a solar energy company in Ketura on the Arava Valley, in 2007 and is the co-founder and president of Energiya Global Capital.
Abramowitz called climate change "the great moral challenge of today" and listed in his talk five things people need to do to help, such as stop burning coal and using natural gas as an interim while going toward being fully renewable.
He also told engineering students to study battery storage, which is cheaper than natural gas. In addition, he said, people need to stop burning diesel.
"You're in a race against time," he said.
As prices of electric vehicles are going down, he suggested the BU community push to be the first campus with an all-electric police fleet.
As consumers, he said he hopes BU adds meatless Mondays and that the university should "go Tuesdays, Wednesdays and Thursdays," too, because red meat has four times the carbon footprint as chicken.
BU Students for Israel and the Environmental Student Organization co-sponsored Abramowitz's talk. BUSI focuses on Israeli culture, according to BUSI president Ben Atlas, a sophomore in the College of Arts and Sciences. This is the first talk BUSI held related to climate, he said.
Maya Webb, a sophomore studying mathematics in CAS who serves as the director of marketing for BUSI, said she was inspired by Abramowitz's dedication to his work.
"What I found interesting from Yosef was how he was able to use his religion in his passion for environmentalism, and all of his successes from there," Webb said.
Environmental Student Organization president Julia Nassar, a senior in CAS, said ESO is not affiliated with BUSI and does not necessarily share its views.
Nathan Phillips, a professor in the Earth and Environment Department at BU, said students must get involved in the climate change movement, such as with Divest BU, a student group that encourages BU to draw its money out of investing in fossil fuels and to reinvest in climate change solutions.
"We need fundamental change in how we power our society," Phillips said.
Phillips said he was on the task force for developing Boston University's Climate Action Plan, which was approved by the Board of Trustees in December 2017.
He said the two major aspects of the plan are to produce net-zero carbon emissions by 2040 and 100 percent renewable electricity, which, starting in 2020, will be purchased from a South Dakota wind farm.
Abramowitz said the BU community holds an important role in the future of sustainability.   
"There's a whole other world out there that is deeply affected by all that we do," Abramowitz said. "We're toast if BU doesn't think the world relies on what you do."