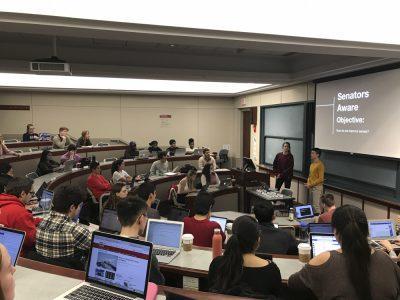 There's a bit more to come from Student Government this semester.
Two "Swipes for Boston" food runs will be held on April 26 and May 3, in which students will help distribute food purchased with donated meal swipes to people experiencing homelessness in the city.
On Wednesday, a networking event called "Careers in Sustainability Speed Dating" will pair students with working professionals for 5-minute time slots to ask career-oriented questions.
These events will continue objectives SG has been pushing for the BU community, SG spokesperson Sydney Gullett wrote in an email.
"From the spring concert to town halls to increasing visibility, all of the events and accomplishments from this year were for our student body," Gullett wrote. "Thus, we were able to bring the Boston University community closer together."
Throughout the 2018-19 school year, SG completed a number of events and projects, including the spring concert, "802.1," and the Menstrual Product Initiative.
"It was extremely important for SG this year to increase student engagement on campus," Gullet wrote, "and I believe the concert was an excellent catalyst for that."
Nhi Do, a sophomore and former senator from the School of Hospitality Administration, wrote in an email one of SG's most important accomplishments of the semester was the Menstrual Product Initiative, which sought to provide increased access to tampons and pads across campus.
"As a student at BU and as a woman, I think it was a great start to creating equality in the campus environment," Do wrote. "While there were some up and downs, I think that Student Government is very crucial to the future of BU."
SG Senate Chair Andrew Chiao said Senate has accomplished a lot this year alongside the other branches of SG, including increasing transparency to students.
"I just want to mention how consistent, transparent and powerful that Student Government has been," Chiao said. "We have had an amazing cabinet and E-board. They've worked so unbelievably hard all year."