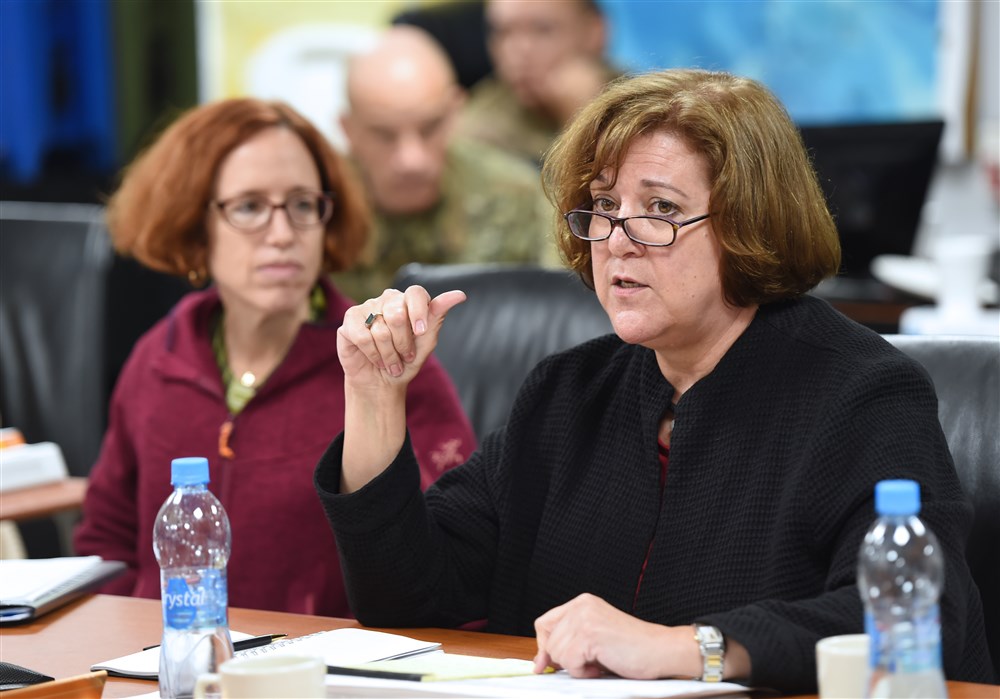 Mary Beth Leonard, a Boston University alumna, has served as the U.S. Ambassador to the African Union for almost three years. Her career has included working as a research analyst for the U.S. Department of Defense and serving as the U.S. ambassador to the Republic of Mali.
A Worcester native, Leonard wrote in an email she was drawn to Boston to attend college.
"Boston very much had that 'bright lights, big city' allure," Leonard wrote.
During her time at BU, Leonard studied French, which she wrote was her favorite subject in high school. But, she wasn't necessarily interested in majoring in the language. She wrote she was far more interested in finding ways to blend her love of the language with a major that would lead to an eventual career abroad.
"With a family of educators, I was quite convinced of the value of a liberal arts education, so didn't want to major in business, and picked economics on something more than a whim," Leonard wrote.
As Leonard continued to study economics, she found her niche: developmental economics. This, combined with her many years of studying French, eventually drew her focus to Africa and a master's degree in international relations from the Johns Hopkins University School of Advanced International Studies.
"I would not say at all that a master's in International Relations is a pivot from an undergraduate economics degree," Leonard wrote. "Economics, history, comparative politics, languages, are all among the essential building blocks to international relations."
Although the United States solely holds observer status within the African Union, which is made up of 55 African countries in an effort to create unity throughout the continent, Leonard wrote the purpose of the work she does as a U.S. ambassador is to help facilitate the upward trajectory of multiple facets of life in Africa.
"Our work is guided by our 2013 Memorandum of Understanding with the AU, which divides our work along four thematic lines, which are peace and security; economic growth, trade and investment; democracy and governance; and opportunity and development," Leonard wrote.
In regards to some of the biggest challenges facing Africa today, Leonard wrote she believes that peacekeeping operations on the continent have not been as successful as the African Union would like.
Leonard wrote while the majority of United Nations peacekeeping operations take place on the continent, there is also a constant need for offensive operations to combat terrorist groups such as Boko Haram and al-Shabaab.
"While we are far from resolving whether the best answer lies in bilateral, ad hoc support or a more reliable international flow of funds," Leonard wrote, "I would say that the U.S. Mission to the AU takes pride in being in the thick of these conversations as they take shape both internally within the U.S. Government and in international fora like the United Nations."
Although Africa continues to face problems, such as terrorism and public health and environmental challenges, Fallou Ngom, BU's director of the African Studies Center, said he believes things are looking up for the continent.
"Of course there continue to be problems in many parts of Africa. There have been very good improvements in the political scene, the development of the economy … some of the fastest growing economies are in Africa," Ngom said. "It is actually much better now than it used to be."
While Ngom said he believes it is crucial for Africa to gain economic independence from the international community and for African youth to dictate the continent's future, he does feel the United States has a role to play in facilitating change.
"The attitudes towards the U.S. are largely positive in Africa," Ngom said. "The U.S. doesn't have the baggage that France has, or the baggage that England has. … It has a very important role to play if it lives up to its ideals."
As the United States is one of the many nations involved in the continent, Leonard serves as the country's direct line to the AU.
"As U.S. Ambassador to the African Union," Leonard wrote, "it is an honor to represent U.S. partnership toward those lofty, yet attainable goals."