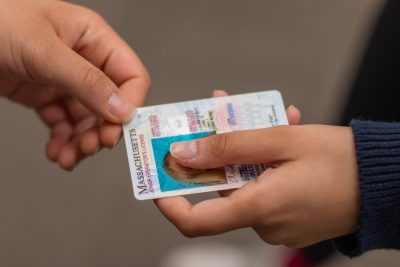 The Massachusetts Senate will debate a proposal on Thursday that would allow residents to register a nonbinary gender designation on their driver's licenses and state-issued IDs.
Senate bill S.2192 passed both the Committee on Transportation and the Committee on Senate Ways and Means earlier this month and would allow residents to identify as "X" on their IDs.
Senate President Karen Spilka, a Democrat representing Second Middlesex and Norfolk, said in an emailed statement she partnered with one of her constituents on the legislation and hopes it passes this year.
"This bill is really special to me because I worked with a young constituent on it, and it is past time for government to recognize people for who they are," Spilka said. "I am excited the Senate will be taking up this important piece of the legislation Thursday and hopeful, this time, it will make its way to the governor's desk and become law."
Corey Prachniak-Rincón, director of the Massachusetts Commission on LGBTQ Youth, said being able to identify as nonbinary validates people's identity and can help them feel respected and comfortable.
"For a lot of people, this is about validating their identity as gender nonbinary or nonconforming, or gender fluid person," Prachniak-Rincón said. "And there's lots of research to show that any way that folks can feel like their identity is being recognized and respected, that's going to decrease stigma, it's going to make people more comfortable, you know, accessing services, so we're really excited to see that."
State Sen. Joan Lovely, a Democrat of Second Essex, said she thinks Thursday's Senate debate could further the state's commitment to all its residents, regardless of what gender they identify as.
"The time has more than come to be able to support all of our residents in Massachusetts, no matter how they identify themselves," Lovely said. "So yes, I believe this is the beginning of a more positive to come to support everyone who lives here."
Barry Finegold, a Democratic senator from Second Essex and Middlesex, said in an emailed statement he supports the bill and believes the law should accurately represent the people of the state.
"I am supportive of the bill and will be voting for it on Thursday," Finegold said. "For folks who do not identify within the gender binary, it is important that we give them an identification option that represents who they truly are. Our laws must reflect our reality, and this bill is a key step to do that."
State Sen. Will Brownsberger, a Democrat representing Second Suffolk and Middlesex, wrote in an email people should be able to decide how they identify.
"People should be able to identify themselves as who they are, in a way that is consistent with their own identity," Brownsberger wrote. "It's time to get this legislation passed."