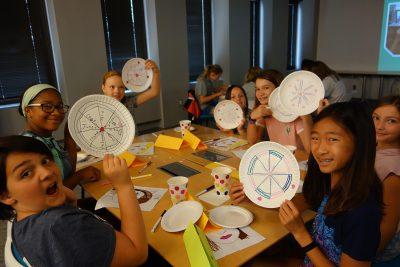 From a young age, many girls measure their self worth by comparing their own appearance to others'. Social media has exacerbated this problem, and studies have shown this leads to an increasing lack of self confidence in women in the 21st century.
Michelle Cove founded MEDIAGIRLS in 2014 to educate young girls about the media, in an attempt to respond to its negative impact on women.
"I've always loved media's power to inspire," Cove said, "but it is negatively affecting young girls more than it ever has in the past."
Cove is the founder and executive director of the Boston-based nonprofit. About 25 years before starting the organization, she said she spent her time editing magazines, writing books and updating blogs. According to Cove, it was here where she saw first-hand the growing impact media had on girls.
But, this hit especially close to home when it began to affect her daughter.
"One day, my 9-year-old daughter was crying in the girls' locker room about how there wasn't a gap between her thighs," Cove said.
She said she decided it was time for some change.
MEDIAGIRLS organizes eight, 10 and 16-week programs in schools around Boston where female college mentors teach young girls how to analyze the media and create their own forms of empowering media, such as a YouTube trailer for their own social media campaigns.
"Media is always telling girls they should be hotter and skinnier," Cove said. "So we teach girls how to consume media and think critically towards it."
Cove said mentors, organizers and panelists adjust girls' focuses away from societal expectations. She said girls are not supposed to look or act a certain way. It's all about the way they want to present themselves, Cove said, and embracing who they are as strong young girls.
More than 4,000 girls have participated in workshops, and 600 others have completed the organization's after-school program, according to their website.
The organization's latest efforts have been dedicated to their fundraiser event, "Get Strong Inside & Out," which will occur on April 28 at the Brookline Teen Center. At the event, girls will receive advice from a panel on using social media, learn media tips and take part in physical activities that promote confidence.
Cove said the upcoming fundraiser was organized to not only raise money to reach underserved schools and young girls, but to spread awareness of the impact of media. Girls and guardians who attend the event can participate in activities that teach them more about the organization's goals, media and themselves.
Bethany Boulanger, a junior in the Wheelock College of Education and Human Development who is taking part in the upcoming MEDIAGIRLS event, said media is extremely prevalent in the lives of young girls.
"Middle school-age girls are one of the first generations growing up with this much media influence," Boulanger said. "They often don't have a lot of guidance."
Boulanger said MEDIAGIRLS encourages all girls to celebrate their inner and outer strengths in a world that pushes against them.
Cove said she encourages all college students to apply to be a MEDIAGIRLS mentor that teaches and takes part in the school programs around Boston. She said the "Get Strong Inside & Out" fundraiser is also open to college students who can spread the word to younger girls on how to interpret the media.
Boulanger said she hopes all who attend the fundraiser will learn what girls should be aware of when viewing media.
"I will be discussing how girls can use social media in more positive or empowering ways and how each [of] our experiences with social media has changed along our journey," Boulanger said.
Sarah Gaines, a local writer, entrepreneur and speaker, will moderate the panel. She said the discussion will cover topics such as self-love, body image and female confidence.
"Young women are our future, and we are fortunate to live in a time where being a woman no longer limits us from going after what we want," Gaines said. "But young women are perhaps the most vulnerable since social media is shaping their identities as they grow into adulthood."