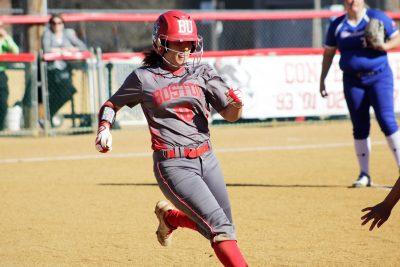 Boston University Softball head coach Ashley Waters has been preaching offense to her team for the past few weeks. Last weekend, her requests were delivered against Lafayette College.
The Terriers (28-17, 11-1 Patriot League) exploded for 25 runs in the weekend sweep of the Leopards. BU will look to keep that offensive energy coming in the penultimate Patriot League series of the season against the United States Military Academy (25-26, 8-7 Patriot League) this weekend at the BU Softball Field.
Waters said the weekend performance was great, but the runs need to be more consistent.
"We need to continue going back to the drawing board," Walters said after Sunday's victory. "and try to figure out how to put runs on the board. I'm happy with the way we swung but thought we could have been a little sharper at times."
The Terriers are on an eight-game win streak coming into Thursday's contests with Dartmouth college and swept the Patriot League player of the week awards.
Freshman outfielder Aliyah Huerta-Leipner was named the Patriot League player and rookie of the week after batting at a .400 clip with two doubles, three home runs, and seven RBIs over the five game stretch.
Huerta-Leipner has become the first BU athlete since 2011 to be named both the Patriot League player and rookie of the week.
Waters said Huerta-Leipner had good contact all weekend and that she was gaining good Patriot League experience.
"She did a good job of having solid pieces, even her outs — most of them were cut in half and hard," Waters said. "As you go through conference play, especially as a freshman, you start to figure out what we need to do."
Freshman pitcher Emily Gant was named the Patriot League pitcher of the week after a dominant 20 strikeouts in 15 shutout innings to go along with two victories over University of Massachusetts Lowell and Lafayette College.
In the circle for the Terriers this weekend will most likely be the dynamic duo of sophomore pitcher Ali Dubois and Gant.
DuBois (19-8) has been dominant in the circle this year, as she rocks a 1.29 ERA with 16 complete games. DuBois has struck out 162 batters this season in the almost the same number of innings pitched (163) and is holding opposing batters to a .208 batting average.
Gant (8-7) has shown her talent early as a freshman, striking out 128 batters in 109.2 innings. She has shown her ability to mow down opposing batters — as seen her in 11 strikeout, eight-inning victory over UMass Lowell.
Scouting The Black Knights
Army is a hair under .500 this year, sitting at 25-26, but do hold a winning record in Patriot League play at 8-7, good for third place in the conference.
The Black Knights won their previous Patriot League series against second-place Bucknell, taking two out of three games at home.
Army has two pitchers with more than 20 appearances in the circle: Macey Newbary and Jolie Duong.
Newbary (9-6) has pitched herself to a 2.21 ERA in 24 appearances and 98 innings of work and secured a victory against Bucknell last weekend.
Duong (11-9) is the workhorse of the Black Knights' pitching staff. She sports a 3.13 ERA in 25 appearances —19 of those being starts —  and has worked 136.1 innings and has struck out 93 batters on the season.
At the plate, the player to watch out for is sophomore Ally Snelling. Snelling is batting .294 on the season, good for fourth on the team, but the real danger comes from her ability to rack up doubles as she leads the team with 13 on the season.
After Sunday's victory, Waters said Army reminded her of the Terriers and they have the same tenacity BU possesses.
"They're going to give everything they have through 21 innings this weekend," Waters said. "They will be in every single pitch."
Looking Ahead
After this series, the Terriers will travel to Lewisburg, Pennsylvania on May 4 to finish off regular season play against second-place Bucknell (25-18, 13-2 Patriot League) in a series that could determine the number one seed in the Patriot League conference tournament.