The media is full of various depictions of the future, from apocalyptic wastelands to utopian societies. These visions of what lie ahead often shed light on a problem from our time, but they can also put a spotlight on a particular culture.
The Afrofuturism & Black Speculative Arts Expo and Symposium was held on Thursday at the Boston University Photonics Center. Presented by the African American Studies Program and the BU Arts Initiative, the event featured local and regional artists and scholars whose work involves Afrofuturism.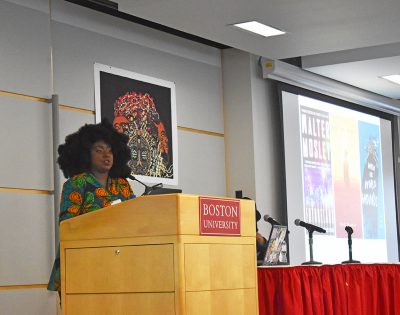 Afrofuturism, a philosophy that emerged in the 1970s, is a school of thought utilized by African American artists to reimagine a future of black culture filled with arts, science and technology —  often through the lens of science fiction tropes.
Louis Chude-Sokei, an English professor and director of the BU African American Studies program, said there is immense cultural value to thinking through the lens of Afrofuturism.
"Black futurity, the desire to politicize and claim your own version of the future, is just as important as trying to recover your own version of the past," Chude-Sokei said. "So black futurism marks a shift when people start saying, 'yes, we've got this traumatic, complicated past, but right now we need to think of alternative futures.'"
Thursday's expo was created through collaboration with the Black Speculative Arts Movement, a network of artists, writers, poets, animators and filmmakers whose work attempts to reimagine the past and speculate alternative futures.
"They tend to focus on black speculative thought," Chude-Sokei said. "After 'Black Panther,' the word Afrofuturism is all over the place, meaning all kinds of things and they want to distance themselves from the commodification of black futurism."
Chude-Sokei, who played a large role in organizing the expo, said the perspectives BSAM offers is valuable to share at BU. BSAM is largely a grassroots movement, Chude-Sokei said.
"[Members] were coming out of colleges, cultural activism, political activism," Chude-Sokei said. "And I thought, this is an angle of Afrofuturism that might not get enough attention — a more working-class black community. I thought that BU and Boston in general needed to be exposed to that."
The artists featured in the expo worked with a variety of different mediums and each interacted with black speculative art in their own way.
Stacey Robinson, who presented during a panel titled "Afrofuturism: Comics & Visual Culture," is a graphic designer who draws upon different parts of African American culture to inspire his work.
During the panel, Robinson said Afrofuturism is about "looking at the past while existing in the present and speculating the future." Robinson also said that black speculative artists "have to show people what the Afrofuture looks like."
Robinson said the goal of his work is to get viewers to think critically about the messages he is portraying.
"I can't make you like my work, but I can make you engage with it," Robinson said.
Robinson also mentioned that "the decolonized black imagination," the practice of actively removing colonial influences from one's stories, is an important part of his work. Robinson said it is the only place where African Americans are truly free.
Writer Sheree Renée Thomas walked audience members through the history of black speculative art and Afrofuturism in a segment called, "Afrofuturism: Storytelling & Literary Tradition."
Thomas began her presentation by discussing some of the first narratives depicting slavery from the perspective of African Americans prior to the Civil War and worked her way to discussing science fiction pioneers such as Octavia Butler, who wrote various short stories whose themes were at times regarded as afrofuturist.  
Thomas also emphasized during her presentation writers who create work that challenges the existence of things like poverty and imagine futures without them are "creating science fiction."
Quentin VerCetty, a visual storyteller who also presented during the "Afrofuturism: Storytelling & Literary Tradition" segment, said it is important for African American artists to connect with their pasts through their work.
"You may not be born in Africa, but Africa might be born in you," VerCetty said.
Chude-Sokei said displaying African American art in settings such as Thursday's expo is important and can have lasting effects on those who witness the art.
"They're doing great work, and the work they're doing is really changing how a lot of African American people see themselves," he said.