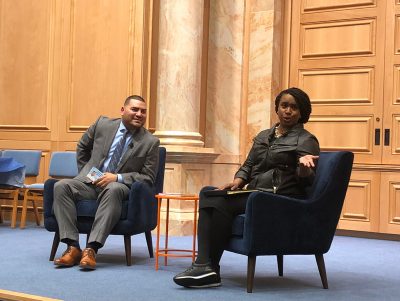 U.S. Representative Ayanna Pressley (D-Massachusetts) spoke Tuesday about the importance of building diverse relationships and women's representation in government.
The event was hosted by Raul Fernandez, Boston University Wheelock College of Education and Human Development associate dean for Equity, Diversity, & Inclusion.
The event, titled "A Conversation on Race" and was held at Congregation Kehillath Israel. Pressley, who became the first black woman to represent Massachusetts in the U.S. House of Representative when she was elected to represent Massachusetts 7th District in November, headlined the event and was followed by a community discussion on the issue of race in Brookline.
Fernandez, who is currently running for the Brookline Select Board, said at the event that he has been inspired by Pressley's work in Congress, as Boston City Councilor at-large and with multiple advocacy groups.
"[Pressley] believes that the people closest to the pain should be closest to the power," Fernandez said, "and also that a diversity of voices in the political process is essential to making policies to benefit more Americans," .
Fernandez also said he was impressed by Pressley's personality and passion.
"I gotta tell you, I've been personally inspired by her courage, by her tenacity, and by the heart that she brings to everything that she does," Fernandez said.
Pressley said at the event she believes having relationships with her constituents and understanding the issues that affect them is an important part of the democratic process and fighting discrimination.
"At the core of all things politic, and at the core of any meaningful work, is relationship," Pressley said, "and how important is it that we be in a good relationship if you want to do the business of social, racial, economic, gender, green justice in order for us to do good business, good work."
Pressley also recounted how she was able to advocate for gender equality in Boston while serving on City Council by pressuring every city department and program to give women the same representation as their male counterparts.
"Our first budget cycle, I asked every agency and department that came before us, 'What do you do for the girls?' And their answers were a little bit more than one syllable," Pressley said.
Pressley said by the next budget cycle, the City's programs and agencies were better prepared to report on how they were serving Boston's female population.
"They came with binders, multi-colored, cross tab because someone was going to ask the question," Pressley said, "and that is the power of representation."
After Pressley and Fernandez finished their conversation, Fernandez moderated a panel discussion with community groups and activist leaders on the issues of race in Brookline.
Brookline High School senior Vishni Samaraweera spoke during the panel how her organization Students Against Institutional Racism created inclusive curriculum that is currently being implemented at her school.
"We created a handbook that aligns with the eighth grade U.S. history curriculum," Samaraweera said, "that incorporates marginalized perspectives from people of color, from women, different perspectives throughout history, that are equally needed to be told and are not taught in classrooms."
Anne Greenwald, a panel speaker and school nurse in the Boston Public School system, said during the discussion that she has always tried to connect her own ethnic liberation with other members of her community.
"From a very early age I always knew that my liberation was connected to everyone else's liberation," Greenwald said. "I think it's something I learned growing up Jewish in my community, and I have sort of tried to live that life as much as I possibly can."
Malcolm Doldron, a 41-year-old Brookline resident, attended the discussion and said he was impressed by Pressley's conversation and thought residents left with a sense of pride for their local leaders.
"I think it was outstanding to listen to Ayanna Pressley express her views and her conviction and power," Doldron said. "It was just very impactful."
Doldron said he thought it was a fantastic and necessary conversation.
"I think that everybody can walk away from this conversation with a sense of pride in our representatives locally," Doldron said, "with the seed that was planted to act to be active,"
Sara Ting, a 69-year-old from Jamaica Plain, attended the event and said every person should focus on examining their biases and improving themselves.
"One of the questions we all need to ask ourselves is, 'What does it mean to be a human being?'" Ting said.  "If we all began our day with making a commitment, 'I'm going to try and be the best human being today,' the world can be transformed."
Ting said people who are not willing to address their own biases are not able to grow to be accepting of people with different cultures.
"And what people don't realize — you only limit yourself, you limit your own personal growth and your professional growth if you don't work on your biases," Ting said. "Because how effective can you be as a leader if you say, 'I can only head up departments with people that look like me' or 'I can only lead projects with people that look like me.' You can't."
Marina Schachnik, a 29-year-old from Brookline, attended the event and said she was impressed by Fernandez's response to the issues brought up during the discussion.
"There's a lot of tension and conflict within the community," Schachnik said, "so hearing some of those questions, and how he was able to feel in those solidified he definitely has my vote."