At 500 Boylston Street, a brown building stands. On the outside, its appearance blends in with the cityscape. Upon entering the building, however, bright colors and textures, coupled with varying sights, smells and tastes bring smiles to visitor's faces — creating what can only be described as a "Happy Place."
"Happy Place," the name of the pop-up gallery currently open in Back Bay, is on an international tour, having previously made stops in Los Angeles, Chicago and Toronto before arriving in Boston, where it will remain until June 2.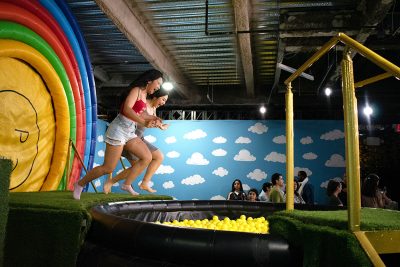 On their website, the gallery describe themselves as "a special place where anyone who walks in is surrounded by all things HAPPY."
Lynn Jiang, a sophomore in the College of Arts and Sciences, said she first heard of Happy Place when her friends in California posted about it. She said she immediately got her ticket when she found out it was coming to Boston.
While Jiang said the gallery did not live up to her expectations, she said she enjoyed the "cute, eye-catching" set up of the place.
"For people who want some good shots for their Instagram feed, it is a must," she said. "For people who want to get happy … I don't really see the need to go."
Happy Place offers a variety of photo opportunities from start to finish. Employees greet visitors at the door, offering smiles and treats, and everyone who enters "the Candy Room" gets a paper cup filled with M&Ms to munch on as they observe the room's lipstick-kissed wallpaper and a giant XO sculpture.
Jared Paul, the founder of Happy Place, said the inspiration for the pop-up came from he and his wife always looking for fun places to take their three kids. He said they enjoyed art museums and sites with "immersive entertainment" and he wanted to bring something like that to the public.
"[Happy Place] is definitely designed to entice people to document it and share it," Paul said, "but there's also a lot of things you can't do on Instagram — you can't smell the cookies, you can't taste the candy, you can't touch things."
Paul said he had his "aha moment" for Happy Place in 2017.
"Instead of creating something that would exist on a concert stage or a theatrical stage," Paul said. "I wanted to create something that was just as grand — that was a walk-through immersive, where the building itself becomes the entertainment and the show."
Inside Happy Place, a doorway of golden, plastic streamers leads to a long hallway with several multi-colored nooks, each centered around a different prop. One nook featured white chains hanging from the ceiling, surrounded by bright red walls. Another was rubber ducky themed, and one featured hundreds of small mirrors taped to the walls.
Pop-up attendees brought in everything from iPhones to DSLR cameras to take pictures in the colorful setups. As much as it is an immersive experience, Paul said it's also a technological one.
"People document and interact through technology," Paul said. "That's really an experience of anything today, so that's definitely part of the experience in Happy Place, but not entirely."
Paul said that unlike at restaurants and other places where people use their phones and social media to "escape" the moment, he said people use their technology to "extenuate the experience." He said people are present while in Happy Place.
Another hallway in the pop-up takes visitors to a Cookie Room. Here, employees offer free chocolate chip cookies in front of a massive plastic cookie. Further down the hall is the Flower Room, where hundreds of fake flowers hang from the ceiling on strings.
A Happy Place employee stands ready to take photos in each room. One employee commented that they probably take over 200 photos a day.
Geneve Lau, a sophomore in the College of Communication, said the Happy Place was about what she had expected. She said she did lot of research before venturing into Happy Place, and has been to pop-ups like it in the past.
"I liked that there was the food element include," Lau said. "Eating a cookie in the cookie room was cute. I also liked that there were designated employees at the hot spots, such as the ball-pit or the upside down room. I also liked that there were a variety of rooms."
Paul explained that leaving a city in preparation for traveling to the next stop on their tour takes  about a month. He said that with each location, they try to add something inspired by the area, and that there were "exciting things" planned for the future.
For each city Happy Place has been, and each place it will go, Paul said he hopes it will put a smile on people's faces as they walk through.
"I don't think I can solve [customers'] problems, but I think I can take their mind off them," Paul said. "Maybe they'll have little more warmth in their hearts. And maybe, on a very small level, that will make the world a better place."