Walk past the George Sherman Union often enough and you're likely to catch a glimpse of a Boston terrier sitting and smiling, showing its pink, wet tongue while being pet by a crowd of Boston University students.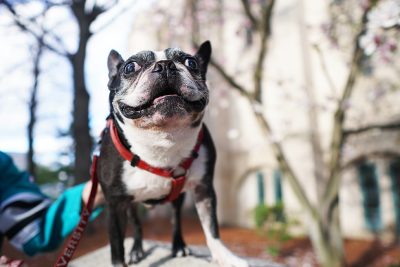 That terrier's name is Rhett — named after BU's official school mascot, also a Boston terrier — and belongs to Allston resident Calvin Iwanicki. Iwanicki, who said he often prefers the nickname "Rhett's Dad," is a BU alumnus himself, graduating from the College of Arts and Sciences in 2011.
Iwanicki said Rhett is an Arkansan Boston terrier who was born on Jan. 26, 2008. Iwanicki discovered 10-week-old Rhett on an online breeder's website and then flew to Arkansas to pick up Rhett and bring him to Boston.
Although Rhett now lives with Iwanicki and his wife, Iwanicki said the terrier still has four other siblings back in Arkansas. Iwanicki said when Rhett first arrived in Boston, he seemed confused.
"He looks out of the box and he looks at us like, who are you freaks? Where are my brothers and sisters and where the hell am I?" Iwanicki said.
Rhett's fame started when a BU photographer took a picture of Rhett for a BU "Scarlet Fever" spirit day advertisement, Iwanicki said.
Since Rhett has been walking around BU since September 2008, Iwanicki said the Boston terrier has started recognizing different spots on campus. He is fond of the GSU and College of Arts and Sciences, but the Warren Towers elevator is his new favorite spot, as he enjoys going up and down while being held by Iwanicki.
BU Spokesperson Colin Riley said as students on campus pass by Rhett and Iwanicki as they are walking along campus, they can be reminded of BU's mascot.
"The characteristics of the breed are characteristics we want in our athletic teams and in our student body," Riley said. "Loyal, smart, they always have that permanent smile."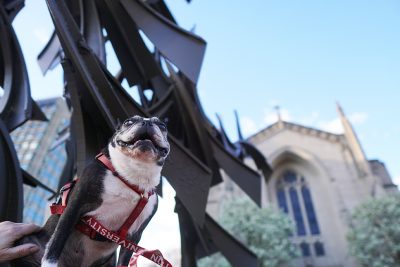 As an alumnus of the BU Figure Skating Club, Iwanicki said he plays music in the BU skating arena on Friday nights where, of course, Rhett tags along, too.
Without the music, Iwanicki said, the arena is so quiet, "It's like a mausoleum. You could hear Rhett screaming at the stands."
As Rhett continues to spend more time around West Campus, Iwanicki said he has been exposed to a number of sports teams and clubs practicing on the fields. According to Iwanicki, Rhett likes the Women's Soccer and Softball team, but thinks figure skating is the best.
"I bring him to the lobby of the Case Gym and you can hear some music and he's like, 'they're there' and he drags me through the doors," Iwanicki said. 
Iwanicki said Rhett shares habits that are common in other Boston terriers.
"Boston terriers snore really loud and they can clear the room out with a fart," Iwanicki said. "Sometimes [he does it] at the same time. He's got a talent."
With a campus surrounded by food, Iwanicki said he has introduced Rhett to some restaurants around BU. Ever since he discovered Rhett's favorite food is chicken, Iwanicki makes it a point to frequent Raising Cane's — a popular West Campus eatery specializing in chicken fingers — where he peels the breading off a piece of chicken and feeds it to Rhett.
On occasion, Rhett also enjoys drinking some alcoholic beverages. In particular, Vermont beer Magic Hat #9. Iwanicki said he often pours a small amount of beer into Rhett's bowl, lets it go flat, and then allows Rhett to drink it.
"He has elevated taste," Iwanicki said. "Once he starts licking it, he never stops, he just kinda chugs it."
Rhett and Iwanicki come to campus whenever they please. Iwanicki said he uses the weather and Rhett's energy level to determine when is best to come to and leave campus.
"I can tell, he's getting tired so [we] go home," said Iwanicki. "He likes to hang out here [at BU], where his fan base is."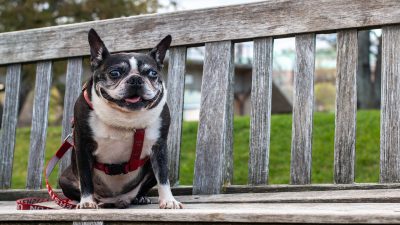 Riley said he likes seeing Rhett on campus with Iwanicki and thinks it helps students who miss their own pets.
"One of the things that can make students homesick is leaving their pets behind," Riley said. "It's nice to see other dogs."
Aside from hanging out on Commonwealth Avenue, Iwanicki said Rhett has made many guest appearances at campus events, such as the club fair Splash and commencement. Iwanicki also said he has seen students crying over not seeing Rhett anymore during past graduation ceremonies.
Nafeesa Connolly
, the assistant director of marketing and promotions
 of the BU Department of Athletics, wrote in an email that although Rhett the dog is not the official school mascot, she still supports the fact that Iwanicki brings him to campus events.
"It's great when his owner brings him on campus to events and games," Connolly wrote. "He certainly brings joy to students, the campus, and the community."