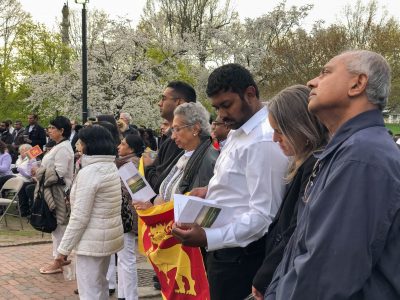 Four days after a series of explosions rocked Sri Lanka, more than 100 Sri Lankan nationals and their supporters gathered Thursday evening on the Boston Common to mourn those injured and killed.
The bombings last weekend killed more than 250 people and injured more than 500 at three hotels and three churches across the country.
Sri Lankan flags fluttered in the breeze on the common, dotting the bandstand with bright yellow and red. At times the sun shone through the clouds, casting a golden light onto the crowd.  Children and adults stood in silence, while speakers of different faiths gave their condolences and prayers to the Christian and Sri Lankan communities.
Imam Abdul Malik Merchant from the Islamic Society of Boston Cultural Center said it is important to join in unity during times of crisis.
"Brothers and sisters what happened is a travesty," Merchant said. "It is an abomination not only to our tradition as Muslims, but to our humanity as human beings and we cannot allow these types of terroristic acts to separate us as a community. We cannot allow this to remove the love we have for one and other as a community."
Rev. Laura Everett, executive director of the Massachusetts Council of Churches and one of the organizers of the service, said in an interview after the vigil she was saddened so many fellow believers were killed in the attacks.
"For Christians, Easter is supposed to be a day of great joy," Everett said. "To wake up on Easter morning and find out that hundreds of Christians have been murdered while praying the same way I was going to go and pray, while celebrating the same holiday I was celebrating, was utterly devastating."
Robert Leikind, the New England regional director of the American Jewish Committee, described the importance of togetherness in times of grief.
"It is so important that we are here together to remember and mourn those who lost their lives," Leikind said, "but also just as important to find strength in one and other and affirm what is good and what is holy in our world."
The service and vigil were hosted by the Sri Lanka Association of New England and the Massachusetts Council of Churches.
An organizer of the event, Vyonni DeMel, 59, of Douglas, said that the bombings made her scared to go back to Sri Lanka.
"We thought, 'At least now we can live in peace and harmony,' but now I think I cannot say that anymore … I don't know if I can go and be there without fear," DeMel said.
Bolton resident Durga Manawasinghe, 40, attended the vigil and said residents of Sri Lanka had gotten used to living in harmony after the Sri Lankan civil war ended but that the bombings had shattered this peace.
"We were born into the war in Sri Lanka, so we just started to relax after the war ended about 10 years ago," Manawasinghe said. "And I think that probably affected most because people were more relaxed, not stressed out, not looking for anything happening suddenly, but this happened."
Abdul Kannachankudy, 40, of Sharon, also attended the vigil and said that Sri Lankans needed to come together in order to move on from the attacks.
"What we can do is to educate and show support to other people and build the brotherhood between all the people and that's it," Kannachankudy said. "What else you can do?"
The service ended with a candlelit procession to the Cathedral Church of Saint Paul, which sits across from the Common. People walked slowly in the evening light, children running ahead of their parents with candles. Once people entered the church, the atmosphere quickly lightened as people talked and laughed with each other over cups of Ceylon tea.
Everett comforted a woman and a little boy pushed his toy car across the granite floor of the church and said that it was important to join as a community in times of pain.
"I'm still unbelievably sad that religious minorities are targeted in so many places," Everett said. "I grieve the violence and what is lost in that, but what's changed for me in the days since this is that I have not grieved alone."