In the age of music streaming services like Spotify and Apple Music, there seems to be an endless supply of small indie rock bands releasing an assortment of singles and EP's, which eventually blend into one indistinguishable playlist of background music.
However, there are certain bands that stick out in all that monotony, and make you want to give them a closer listen.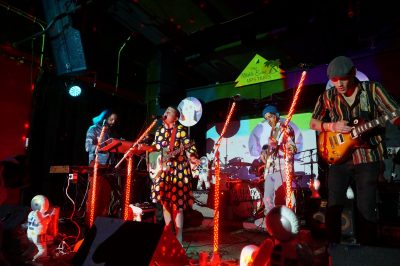 KOLARS and their opening act, Calliope Musicals, are two of these sonic unicorns that restore hope in independent artists. Unlike other artists, they don't hide a lack of originality behind attractive aesthetics.
The only problem with these groups' music is that it simply cannot be done justice through a recording. Their music demands an accompanying stage presence.
On Wednesday night, an intimate crowd gathered at The Middle East Restaurant and Nightclub in Cambridge to watch husband-and-wife duo, Rob Kolar and Lauren Brown and the Texas-native group Calliope Musicals deliver exceptionally energetic and passionate performances.
Miniature inflatable astronauts, mannequin heads covered in LED light dots and an inflatable penguin helped create an intergalactic polar wonderland on stage.
Before Calliope Musicals took the audience on a technicolor trip, I was approached by one of the band's members. He asked me if I would join the band on stage to dance while wearing an inflatable polar bear suit. I was honored to take part in one of the band's wild and zany on-stage traditions.
Calliope Musicals transformed the venue into a psychedelic space party with '80s new-wave inspired dance rhythms and singer Carrie Fussell's powerhouse, undulating vocals.
Fussell's expressive face and movements enhanced the performance as the band jammed out the cosmic chords of their tracks "Echo of the Whoos" and "Wasted Space" while strobe lights and trippy projections moved around them.
Towards the end of the set, a silver alien complete with an iPad mouth and duct tape satellite dish eyes joined the band on stage as a background dancer.
The pulsing beats, dizzying vocals and zany props was a space-rock fantasy that transported everyone in the audience to another galaxy.
The stage was then cleared off for the comparatively minimal Kolars.
Tousling her shaggy rock 'n' roll locks while clad in a sequined mini dress and ripped black tights, Brown switched out her flats for a pair of silver tap shoes. She stood up on a drum positioned low to the ground, with her sticks in hand, as she did a little pre-show tap routine.
Brown was then joined on stage by her husband, clad with a matching sequined jacket and glittery kohl lining his eyes.
The duo kicked things off with their dreamy rockabilly-inspired single "Dizzy." Kolar's quivering yet gravelly vocals are a perfect match for Brown's tap drumming.
From afar the two of them appeared to be a distorted glam circus act, with Brown's tap dance-drumming schtick and Kolar's David Bowie meets Donnie Darko aesthetic, but these two have some serious talent that definitely did not go unnoticed during a live performance.
Recordings simply cannot capture the pulsating effect of Kolar's wailing guitar riffs and Brown's rhythmic dancing. The two of them ooze insatiable chemistry that keeps you fixated on their explosive performance.
The spirits of Johnny Cash and Elvis Presley seemed to burst through the room as Kolar crooned his way through country-rock inspired tunes like "Bullet on the Run," "Touch the Lighting" and "One More Thrill."
Some members of the crowd began to shimmy and shake at the edge of the stage to Brown's hypnotic percussion, turning the place into an off-kilter sock hop.
Even when the pair took things down a notch with songs like "Beyond the World of Man," KOLARS retained the same level of rough-and-tumble spirit that fed the energy of their more uptempo tracks.
The band capped off the night with a swinging rendition of "Dangerous." With the soul of a punk rocker, Kolar belted out the song's gritty chorus, "Is it dangerous to live like us?" Brown gave it her all with this last song as her arms smashed the stand-up kit while her feet tapped passionately against the bass drum.
By the end of the set, KOLARS was less vaudeville and more Bonnie and Clyde-esque. Aside from their spunk and undeniable coolness, KOLARS possess a certain sense of raw authenticity in their sound that lots of indie bands lack nowadays.
Pairing retro rock-rooted rhythms and with modern synths creates a sonically unique blend of that sets the band apart. Through their sound and their incredible stage presence, KOLARS proves that it only takes two to bring the house down.