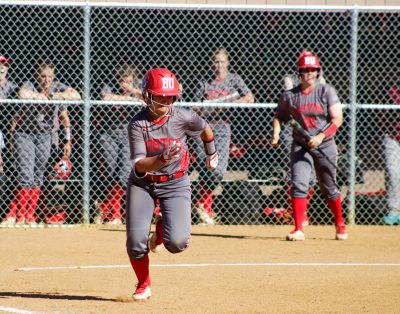 The Boston University softball team used a 7-run third inning Sunday to defeat the United States Military Academy by a score of 11-6 at the BU Softball Field. The Terriers improved their perfect home record on the year to 15-0.
The Terriers (32-17, 14-1 Patriot League) put on an offensive firework show in the third inning by putting up seven hits and seven runs after trailing 4-0. Those seven runs would end up being enough to secure the victory for BU on senior day.
"When 1-9 is feisty and can get on, that makes the game easier," head coach Ashley Waters said.
Senior catcher/infielder Alexa Ponce got the party started in the third inning by roping a two-run double to left center field to cut the Black Knights (25-29, 8-10 PL) lead to two. That was followed by good base running and a trio of singles to give BU its first lead at 5-4.
The inning was capped off by a two-run single by senior infielder Emily Morrow to extend the Terrier lead to 7-4. The BU offense only struck out twice on the day while cracking four extra base hits.
"I feel like all year when we've gotten down, we've found a way to answer," Waters said. "We're never out of a game, and we always have a shot."
One of those extra-base hits came via a home run, courtesy of freshman catcher/infielder Nicole Amodio. Her three-run blast in the fourth inning was a part of a four-run inning that saw every Terrier score who got on base.
And on the other side of the ball, the Terriers' pitching staff calmed down after allowing four runs in the second inning. Sophomore pitcher Ali DuBois started the game in the circle and threw 4.2 innings while allowing six runs, five of which were earned runs, on six hits.
DuBois improved her record to 21-8 on the year and continues to be someone BU is confident in with the ball in her hand. She has provided great length in games all year, which continued Sunday.
BU had five errors on defense, which allowed the Black Knights to extend some innings and keep the pressure on the Terriers.
"They're a scrappy team, and we didn't have our best defense today," Waters said.
Freshman pitcher Emily Gant replaced DuBois in the top of the fifth, with two outs, and threw 2.1 innings of perfect softball. She allowed zero runs and zero hits and walked no one. Gant also added three strikeouts to add to her impressive outing.
BU softball will finish out the regular season this week with four games on the road. They'll take on Brown University on Wednesday and a three-game weekend series against Bucknell University. Then, the Patriot League tournament starts, where expectations will be high for the Terriers, as they currently sit first in the standings with a one-game lead over Bucknell.
Finishing the regular season in first place would give the Terriers the home field throughout the Patriot League Tournament.
"It's at all costs, whatever it takes," Waters said. "I feel like we always play our best softball at the end, and I feel like we're doing our part of catching fire."