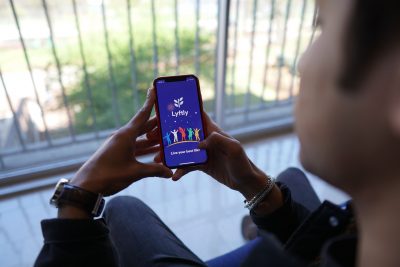 In one year, the Centers for Disease Control and Prevention states about one in five Americans ages 18 and over experience a mental illness, and one in five children have or have had a debilitating mental illness. A Boston University student has become an ambassador for a new app that promotes dialogue about mental health among college-aged students.
Avsar Rana, a junior in the College of Arts and Sciences studying biology and public health, said he started working for Lyftly last August. The app connects young adults via a chat function and provides scheduling tools to remind users to make time for healthy activities.
Rana said he focuses on spreading the word about Lyftly by going to lecture halls, emailing students and talking to people on campus about the platform.
"I started before it was released in the App Store," Rana said. "I played a part in creative design and development of fonts, and general layout of the app. After that was done, we started talking about outreach and how we would start to implement it at our respective colleges."
Rana said he inherited his position as Lyftly's ambassador at BU from one of his friends, who had to leave the campus-based job when he studied abroad. As the app continued to grow, Rana also reached out to a friend at Northeastern University to get involved.
Diya Khullar, a senior at Northeastern studying health science, said she began working in January as Lyftly's ambassador on Huntington Avenue. She said she is involved in the outreach and catering the app to the college-age demographic.
In addition to their ambassador tasks, Khullar said both she and Rana connect with their boss in Silicon Valley over frequent conference calls.
"We have been working on a lot of new features, figuring out how can we make it more helpful, how can we make it more inclusive, making sure our personnel are trained in LGBT issues," Khullar said.
Khullar said she has seen family and friends struggle with their own mental health and wellness, and so felt the need to do something "that actually makes a change." She said she was drawn to Lyftly in part because it focuses on early prevention.
"It is kind of like you are stopping the stream at its source instead of trying to smooth the water at the end," Khullar said. "It is much more difficult once someone has spiraled already, and it is much easier to prevent severe mental illness before its onset."
Khullar added the app is currently working to reach out to groups that have historically struggled with mental health and wellness.
"Something we wanted to focus on is serving people who are generally underserved right now by society," Khullar said. "That could be ethnic minorities and minorities of gender and sexual orientation, because those people have higher rates of every sort of mental health issue."
Isaac Word, a freshman in BU's College of Communication studying film and television, said he believes a large portion of college students experience anxiety and depression.
"Especially with freshmen, you sort of go from a definitive structure in high school to having to manage yourself in college," Word said. "That change can be stressful. As you get older, you still have a big workload and have to manage internships and jobs, balancing getting all your work done and having a social life."
Word added he thinks the app could help college students stay positive and reflect on their emotions.
"I feel like tracking how you are feeling might help instead of just feeling that way and moving on," Word said. "A lot of people say that writing in diaries is therapeutic. Writing down and keeping track of your emotions can help in a way."