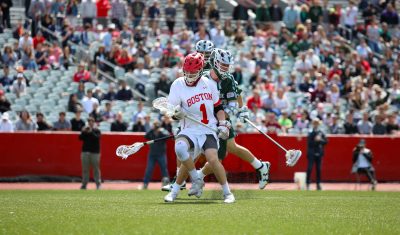 The Boston University men's lacrosse team will host Bucknell University Tuesday night for the quarterfinals of the Patriot League tournament. The Terriers come into the tournament as the third seed while the Bison are the sixth seed.
The two clubs squared off once during the regular season in March, which resulted in a 13-9 BU victory. Bucknell (6-8, 4-4 PL) led the game 5-3 at halftime, but the Terriers (10-5, 5-3 PL) put up seven goals in the third quarter to pull away.
"[Bucknell] haven't really changed much," BU head coach Ryan Polley said.
BU will need their two top dogs — senior attack James Burr and sophomore attack Chris Gray — to continue their dominant play Tuesday night at Nickerson Field if the team wants to advance in the conference tournament.
Burr and Gray have put up consistently high numbers all year to lead their squad as one of the top offenses in the conference.
Gray sits at 99 points on the season so far, which is the best of any player in the country. Burr has 50 goals, a total good for third in the country. Together, the duo also has the most points of any pair of players in the country: 163.
Bucknell's scoring attack is led by Will Yorke, who has tallied 31 goals and 11 assists this season.
One potential storyline for Tuesday's match is that of Bucknell's penalty kill against BU's power play. Bucknell has allowed 10 goals in their 43 instances being a man down, a mark good for second in the Patriot League. The Terriers lead the conference in man-up goals with 22, an average of about 1.5 per game.
"[Bucknell is] just really long," Polley said. "They get their sticks in passing lanes."
Another area to keep an eye on is the faceoff department. BU sits third in the Patriot League in percent of faceoffs won, while Bucknell is seventh. Terrier sophomore Sean Christman sits at 175-124 this year in faceoffs, which is the third best in the conference.
Looking ahead to Tuesday, Polley said any team in the conference has a chance of beating each other.
"Every team in the Patriot League is good," he said. "Now, it's a one-game season."