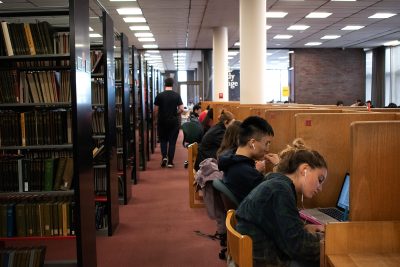 Study period for final exams begins Friday, meaning academic spaces on campus are modifying their hours for students who need to cram before their end-of-year exams at all hours of the day and night.
Mugar Memorial Library will be open 24 hours a day from the beginning of the study period this Friday through the end of finals week next Saturday, May 11. Students can reserve group-study alcoves on the first floor of Mugar for two to five people, or room 305 for two to six people on weekends or after 5 p.m. on weekdays.
The Frederick S. Pardee Management Library in the Questrom School of Business will be open from 8 a.m. to midnight on Monday, May 6, through Thursday, May 9. The library has its regular Friday hours — 10 a.m. to 6 p.m. — on Friday, May 10.
The School of Theology Library will be open from 7:45 a.m. to 10 p.m. this week on Monday through Thursday, and the same time next week Monday through Thursday, as well.
Marsh Chapel will be open Saturday, May 4, through Monday, May 6, for a "Study Period Study Retreat" from 8:30 a.m. to 10 p.m. all three days. The retreat consists of study time, meditation, free meals and movie breaks. Students can register online here.
Off campus, the Boston Public Library in Copley Square has spaces for both quiet individual work and group study. The BPL is open 9 a.m. to 9 p.m. Mondays through Thursdays, 9 a.m. to 5 p.m. Fridays and Saturdays and 1 to 5 p.m. on Sundays.
Stefan Hofmann, a professor in the Department of Psychological and Brain Sciences, said a good method for reducing stress during finals is to take advantage of "context-dependent learning."
"Try to find situations that are fairly similar to the test environment, so if you're being tested in a large group where the students sit next to you, you might actually take your study material to the library and try to study there so you're kind of comfortable with the setting," Hofmann said. "The more similar the context is when you studied as compared to the to the learning space, the more you will retrieve."
Hofmann said there are ways to make finals week less stressful, and he advises students not to cram all of their study material the night before the test and to spend more time on the material they are least comfortable with.
"Don't anticipate the worst, first of all, and second, I would advise them to split their overall challenge into smaller sub-tasks that they can manage on a sort of daily basis," Hofmann said. "Obviously it will be stressful — there's nothing you can do about it — but you can study for the finals still with some sort of sanity."
Bryce Mashimo, a freshman in the College of Arts and Sciences, said he appreciates that Mugar Library is open 24 hours during the study period, though wishes BU had more spaces like that.
"I know the library during finals is already packed, like it's a big library, but it's literally jam-packed 24/7," Mashimo said. "So if they had more spaces that were 24/7 and everything like that, and people could just go because all of BU is studying."
Meg Power, a senior in the Metropolitan College, said her plan for finals week is to "load up on coffee, find a quiet space and try to convince my brain that it wants to do this."
"This is crunch time, and I think the more things that [BU] can offer, they should," Power said. "Definitely more face time with professors or TAs to really sort of wrap up and get a good handle on the material, … or I don't know, I'm a big fan of therapy dogs."
Gayatri Sundar Rajan, a freshman in the College of Engineering, also said she values quiet study spaces and wishes the university would distinguish more clearly which spaces are quiet work spaces and which are good for group work.
"I think they have enough spaces altogether," Rajan said, "but it's tough when you kind of want to study quietly or you want to study in a group, and you don't know if you're really disturbing somebody else."
BU spokesperson Colin Riley said the university always opens up additional spaces for study during the reading and exam periods.
"There is no shortage of space on campus," Riley said. "[There's] no problem with the amount of time you need to study if you spread it over the few days."
Riley said finals week can be stressful but, in the end, it's something everyone gets through.
"For some students, all of a sudden, you have a couple or three finals in a couple of days, and they are trying to review all the materials from the semester," Riley said. "They have the sense that they may not be able to get to it, when in fact, again, we graduate 7,000 students every year and they've all had the same concerns, and they all managed quite well."