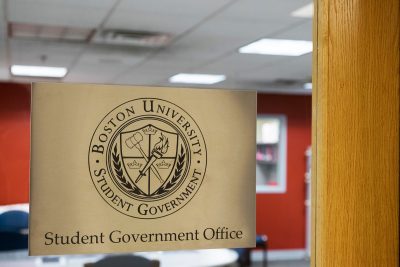 Boston University's Student Government Senate rejected a proposal to change the number of senators each college is allotted at their meeting Monday night. Of the senators present, 73 percent voted against the change, 12 percent voted in favor, and the remaining 15 percent abstained.
The proposal would have allocated each college a number of Senate seats proportional to that college's percentage of the undergraduate student body. Currently, each college is allocated one seat in Senate for every 500 students it has.
Alice Lee, a sophomore senator from the Sargent College of Health and Rehabilitation Sciences, said after the meeting she was concerned with the proposed cuts to representation.
"I was uncomfortable with how some colleges would only have one representative," Lee said. "Having two other [Sargent] senators helps keep me on track, and it's just good to have people to talk to."
Senators Aditya Jain, a sophomore in the College of Engineering, and Delaney Swann, an ENG junior, then gave a final report on the Food Equality Accountability and Safety for Transparency Act. Swann and Jain are the co-chairs of the FEAST Committee.
Jain said the committee's Earth Week, which took place from April 22 to 26, was a success. The organization's outreach grew, he said, as FEAST garnered more than 250 Instagram followers, was actively direct-messaging on the app and hosted a reflective conversation at the end of the week.
Nehemiah Dureus, a senior ENG senator, then gave a brief update on the Menstrual Product Initiative, which has come to an end. The initiative gave away an average of about nine tampons and four pads per day, according to data provided by Dureus during the meeting.
"We did it," Dureus said. "It was an overwhelming success — we literally dispensed 10,000 tampons and 5,000 pads, which I can't even wrap my head around."
Dureus said there were "constant reports" of empty tampon and pad baskets over the course of the project — 213 in total, according to the data. The Center for Gender, Sexuality and Activism, he said, will remove the remaining products from bathrooms by the end of the year.
Election results for next year's at-large Senate seats were then announced. Six parties ran for Senate representation, and five earned enough of the vote to be allocated at least one seat. The winning parties are:
Leather Apron Party: 36 percent of the vote, given four seats

XKCD Party: 23 percent of the vote, given two seats

Jonmichael Party: 13.7 percent of the vote, given two seats

Transfers United: 13.1 percent of the vote, given one seat

First Year Enhancement: 10.5 percent of the vote, given one seat
SG's Vice President of Finance Hector Meneses, a senior in the College of Arts and Sciences, concluded the meeting with an end-of-the-year budget report. A section of SG's website has links to a number of the body's financial documents including presentations, a finalized budget and list of transactions.
Senate Chair Andrew Chiao commended Meneses for his work on SG's financials this year.
"This level of financial transparency has not been achieved in the past six to five years," Chiao said. "If anyone ever accuses Student Government of poor financial transparency, I'll just look at them and shake my head and say, 'Look at the website.'"
Grant Hillyer contributed to the reporting of this article.