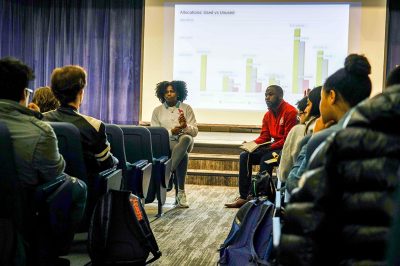 Student Government President Devin Harvin presented proposed changes to Boston University's budget allocation process for student groups Tuesday night to about 80 students gathered in the George Sherman Union Conference Auditorium.
The proposed changes would determine a student group's base budget by their group classification, known as their "road," which includes Deerfield, Bay State, Beacon, Brookline and Commonwealth. Which "road" a student group falls into is based on factors such as the group's overall goals, the types of events it hosts and its membership.
Under the current allocations system, student groups apply for funding on an event-to-event basis, and the university's Allocations Board reviews the applications.
The new proposal establishes a fixed amount of additional allocated money each group would receive for the academic year. This funding is separate from costs already covered by the Community Service Fee, which includes assistance from the Boston University Police Department, Facilities Management and Planning and Student Production Services at events.
Under the new proposal, Commonwealth groups would receive a set $8,000 of additional allocated funds and Beacon groups would receive $2,000. Brookline groups' additional allocated dollars were not listed, and Bay State and Deerfield would receive no additional allocated money.
The purpose of the proposed changes, according to Harvin, is to offer student groups more autonomy in the way they spend their money.
During the Fall 2017 semester, a budget of about $176,000 was allocated to student groups, but about $39,000 was left unused, according to the presentation at Tuesday night's meeting.
"Allocation boards have a hard time giving out money when each group wants $60,000 to $70,000 to throw their events," Harvin said at the meeting.
During the Spring 2018 semester, student groups requested about $650,000 in funding and received around $400,000 in funding, the presentation stated.
Harvin said the idea behind the proposal is that student groups will be able to spend money how they want, and there will be less funding left unused.
"I have groups that say we've been around for 26 plus years, and we can't stay afloat," Harvin said during the presentation.
After a 15-minute presentation, Harvin opened the floor to public comment, during which students voiced concerns about smaller groups not receiving sufficient funding, disproportionate allocation to larger groups and improper spending techniques among groups without supervision.
A member of a Beacon group said they felt it was unfair SG spent more than $6,000 of allocated money on the Spring Concert when this individual's group could not get funding for their own shows and performances.
SG President-elect Hafzat Akanni then walked up to the podium to listen to comments alongside Harvin and addressed students' concerns.
"I'm hearing a lot of frustration, which is totally valid, but I'd like to hear alternative ideas to this proposal," Akanni said to the group. "We can answer your questions, but I don't think we are getting anywhere with you just voicing your grievances."
More than 20 students made comments, and none were in favor of the proposed allocation system.
"We are not thinking for one group," Akanni said during the meeting. "We are thinking for all 450 groups."
The town hall meeting started at 6:30 p.m and went on past 8:10 p.m., though most students had left by that time.
Adia Turner, SG's director of social advocacy, said at the meeting she was frustrated with poor engagement from the student body.
"Devin sends out a monthly email, and it says everything we are going to do in detail," Turner said. "Senate could use a student perspective, and I think it's really problematic that students put no effort into Student Government, but then expect us to do everything to represent you."