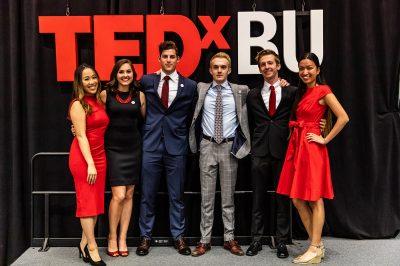 A throng of people escaped the rain on Friday at an "Avant Garde" evening held in the Francis D. Burke Club Room at Agganis Arena. The independently organized TEDxBU event consisted of seven speakers as part of this year's conference.
Seven current Boston University students organized the two-and-a-half-hour talk. The organizers chose the "Avant Garde" theme to emphasize and encourage experimental and new ideas in a range of industries, including business and art, according to the event's website.
The team had to obtain a license from the national TED organization, according to Thomas Rigal, the team's lead organizer and sophomore in Questrom School of Business.
The first speaker was Travis Roy, a former BU hockey player, who gave his talk about appreciating the simple things in life after being paralyzed in his first collegiate hockey game.
Other speakers included Nikki Innocent, Rob Kornblum, Stacy Chin and Mackenzie Bullard, whose talks had one thing in common: using new perspectives to bring change to the world.
Andriana Skaperdas, TEDxBU operations and outreach coordinator and a sophomore in Questrom, said tickets were sold out hours after the event was posted online, and they had to open a waitlist. She said approximately 300 people attended the "full house" event.
"It was awesome to see all the hard work pay off," Skaperdas said.
Rigal said he had the initial idea to hold a TED event. His inspiration, he said, came from a public speaking class at Questrom. He pitched the idea to his friend Ethan Weinberg, the TEDxBU event coordinator, in November 2018 and built the rest of the team from there.
When undergoing the initial phase of planning, he said he had a clear idea of the kind of team members he wished to have.
"I knew I needed someone that was motivated and ambitious because this is like a side project," Rigal said. "We're just doing it basically for fun."
This is not the first TEDxBU. Rigal said he and the team wanted to build off of previous TEDxBUs, when they began planning in late November last year. They kept to a strict monthly schedule to accomplish everything. Rigal said he kept his team as efficient as possible.
"My main goal was to keep it small and to keep everyone on top of everything, and they would directly communicate with me, which I think made it a lot easier," Rigal said.
Finding the speakers and the venue were two pivotal aspects the team had to navigate when they began planning. Alexander Hutchinson, TedxBU's development and financial manager and a sophomore in Questrom, said the venue was the biggest expenditure.
"We were shopping around places in classrooms, but at the end of the day, it just seemed more official — a lot more TEDx — to have it in a real venue," Hutchinson said.
The team credited the College of Arts and Sciences Student Government for their helping fund the event. The TEDxBU team also received a portion of funds from the BUild Lab, according to Hutchinson.
Skaperdas said the team promoted the event on social media mainly by posting content on Facebook, Twitter and Instagram. She also said the team put up digital signs of the event in Questrom and the George Sherman Union.
The team initially started their search for speakers by asking BU professors to give a talk. In addition to the professors who were asked to speak, 22 others from across the country applied, according to Rigal. They selected 13 speakers for the event, although they finally cut it down to seven, she said.
"We're just really looking for speakers to embody this idea of Avant Garde," Rigal said. "It was like taking something and make it their own or kind of doing something revolutionary in their industry."
All of the speakers are connected to Boston in some form, though not all of them are BU-related, according to Rigal.
"My main goal is to bring these speakers to show that these people didn't take that path that everyone's supposed to take, and they're doing fine, they're killing it," he said.
Wendy Swart Grossman, adjunct faculty member at BU and a consultant to nonprofits and foundations, was one of the speakers at the event. She did her talk with Jeannette Guillemin, the director ad interim of BU's School of Visual Arts. Both Grossman and Guillemin are close friends and teach the class CFA 560, a course about the creative economy and social impact, Grossman said.
"The idea of having normally a TED talk would just be one person, so that's kind of crazy to have the two of us together," Grossman said. "Jean and I are obviously individuals who do our own work, but in terms of what we do in terms of the the creative frame, in terms of what we do together, it's really collaborative."
Grossman and Guillemin's talk was titled "Creative Reframe: Bringing Meaning to the Marketplace," where they discussed the importance of the intersection between arts, social impact and entrepreneurship. The speakers finished each others' sentences at points, evidently being the night's "dynamic duo," according to Grossman.
The two addressed the common problem in which graduating artists lack the business skills to work, and they then focused their talk on how to teach artists entrepreneurial skills for them to use "arts as a vehicle for social change."
Alexis Mills, a sophomore in the College of General Studies who attended the event, said she would attend another TEDxBU in the future.
"I thought it was fantastic," Mills said. "It's inspiring to see how others talk about how your path is not always linear and how you can use innovation inside and outside the classroom in your own ways to succeed."