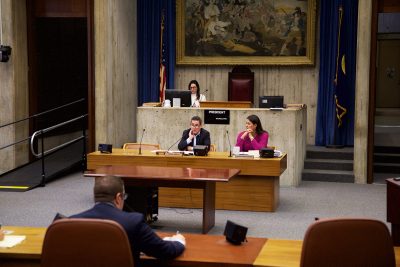 Since nomination applications opened two weeks ago, more than 50 Boston residents have applied to become candidates in the 2019 Boston City Council elections, according to WBUR, hoping to be chosen by voters to fill one of 13 open seats in November.
Out of these 55 candidates, 21 are running for the four at-large positions, with the four incumbents — councilors Michael Flaherty, Michelle Wu, Annissa Essaibi-George and Althea Garrison — facing 18 potential challengers for reelection, WBUR reported.
Six of Boston's nine remaining councilors, who each represent one of Boston's nine districts, are also running for reelection, according to WBUR. District 5's Tim McCarthy, District 8's Josh Zakim — who represents the area of Boston University — and District 9's Mark Ciommo announced they will step down once their term finishes.
There are 10 contenders running for the District 5 seat, six vying for the District 8 seat and seven contenders competing for District 9, WBUR stated.
As Nomination Petition Forms were released on Tuesday, candidates now have to gather enough signatures of support to get on the ballot for the preliminary elections in September.
Contenders for an at-large seat need 1,500 signatures each by the May 13 deadline, while most individual district candidates need 200 signatures each.
Wu, a current City Councilor At-Large who was elected in 2013, said she hopes voters look at her track record of opening doors for community engagement and that she will focus on advancing three areas: economic mobility, racial equity and climate justice.
"We're at a really critical moment in our city and our country's history. There are challenges that need to be addressed now because we can't afford to pass them down to the next generation," Wu said. "Challenges around income inequality, racial disparities and climate change, and we can get a lot done at the city level to build momentum to address them."
One of Wu's challengers for an at-large seat, David Halbert, said he has worked in positions ranging from a City Council staffer to the deputy director of community affairs for the Middlesex Sheriff's Office. Halbert said in office, he would devote part of his focus to providing more opportunities for Boston Public Schools graduates.
"What if we were to take City agencies and partner them directly with city high schools, and a program modeled somewhat off of the Northeastern [University] co-op model where students as freshmen, they can work with these agencies?" Halbert said. "And by the time that they graduate in four years, as there's openings available, they are ready to step into those roles."
At-large contender Taushawn Tinsley said he wants to make sure Boston is "working for everyone" and that he would work to improve Boston's public school system by pushing to make the City's School Committee democratically elected.
"Boston is the only municipality within the state of Massachusetts that does not have an elected school body," Tinsley said. "Baffling, some would say, that the major city within the state doesn't fully believe in … giving families the tools to be able to create a democracy within their school system."
At-Large contender Alejandra St. Guillen said she spent four-and-a-half years as the director of the City's office for Immigrant Advancement and that she would work to reform BPS and inequality in the city. St. Guillen said the City needs to focus on protecting its immigrant population, especially considering U.S. President Donald Trump's administration.
"Whether that be limiting cooperation with ICE, as well as limiting the Boston Public School corporation with ICE," St. Guillen said, "I think we have a duty to our immigrant communities that have helped up this city to make sure that they're able to stay and feel safe here."
As for District 8, Kristen Mobilia is one of the candidates looking to fill Zakim's empty seat. Mobilia wrote in an email she plans to foster community engagement through efforts such as mentorship opportunities and wrote she would focus on topics like responding to the opioid crisis and the availability of affordable housing.
"We need to push forward with legislation to address public health and safety related to the opioid crisis; we need more short-term and long-term recovery programs made available," Mobilia wrote. "We need greater community input on decision-making for affordable housing … and neighborhood development that needs to be more strategic."
Landon Lemoine, another candidate for District 8, wrote in an email he would focus on addressing "real problems with real solutions" and highlight "community innovation." Specifically, Lemoine wrote he would focus on streamlining the city government to make sure all residents of Boston had equal access to the city's resources.
"Streamlining City Hall process for resident facing services, infrastructure (Roads, Sidewalks, Seawall) investments, affordable housing transparency, and public safety are my top priorities next term," Lemoine wrote. "… Our minority and women-owned businesses, youth, and seniors should not be deterred from the process, but instead empowered by the resources of the City."
Candidate for District 5 Mimi Turchinetz, the assistant deputy director of the Mayor's Office for Financial Empowerment, said her experience in government would help her focus on areas such as economic equity and affordable housing.
"I think I have the experience and the tenacity to get things done," Turchinetz said. "I have a history of real results. I've been asked this in terms of both municipal government and making change for over two decades, built affordable housing, created the local community development corporation in Hyde Park called the Southwest Boston CDC."
Justin Murad, a candidate for District 5, said he hopes voters will be able to look past his comparatively young age, 24, and instead pay attention to the ideas he brings. Specifically, Murad said he would focus on managing traffic and increasing affordable housing.
"Traffic congestion, basically everything that involves traffic through infrastructure, that's one of the big emphasis," Murad said. "Another big, very big emphasis that I would be for is the affordable housing. There needs to be a lot more affordable housing in the area and a lot more towards rent control in District 5."