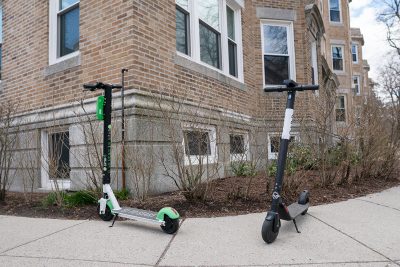 It's been a month since the electric scooter companies Bird and Lime brought their dockless rental vehicles to streets of Brookline for a pilot program.
There have not been any reports of accidents involving e-scooters and cars, said Kristiana Lachiusa, community engagement coordinator for the Cambridge-based transportation advocacy group LiveableStreets Alliance.
Overall, Lachiusa said she has heard mixed reactions from people who have used the e-scooters in Brookline.
"Some people think they are a fun, easy way to get around," Lachiusa said. "Other people have felt uncomfortable riding them, especially given the pavement conditions in certain streets, so it depends who you talk with, I would say."
The e-scooter pilot program deployed 200 total vehicles across Brookline, according to MassLive.
Lachiusa added that more e-scooter use could increase the need for bike lanes in Brookline or in other cities that have the vehicles.
"It feels like this is a good opportunity for cities like Brookline or their surrounding cities," she said, "to increase the number of bike lanes — and protected bike lanes specifically — to help try and address some of these car safety issues."
Scott Mullen, Lime's director of expansion in the Northeast, wrote in an email the company had more than 10,000 rides in their first four weeks of operating in Brookline.
"The people of Brookline have embraced dock-free Lime scooters very quickly and the town has already approved our request to increase our fleet by 25% to meet the demand," Mullen wrote. "The Town has also been very proactive in supporting public education and outreach, both through social media and also with strategically placed signage reminding people to ride in the road, wear helmets, etc."
Mullen also wrote Lime hopes to expand the pilot program to provide more scooters to residents in Brookline.
"The brisk uptake of scooters in Brookline speaks to the demand for new mobility options that enable people to live a car-lite lifestyle," Mullen wrote. "Our goal is to expand this pilot to truly serve all residents and visitors of Brookline with our clean, green, and fun scooters. I think we're only scratching the surface right now."
A spokesperson for Bird said in an emailed statement the company hopes more Massachusetts residents will get access to e-scooter rentals in the near future.
"We are thrilled to see the people of Brookline quickly embrace our option as a way to get around town, without having to get in the car," the spokesperson said. "… Our hope is that soon cities throughout the state will be able to enjoy the benefits of e-scooters replacing short car trips and improving overall transportation challenges."
Hayden Mcguire, 23, of Brighton, said he thinks the e-scooters can cause issues for drivers in the city but feels the environmental benefits of the vehicles are worth the cost.
"It's annoying, driving around is a pain in the a– with them, definitely," Mcguire said. "I think that the pros probably outweigh the cons for me personally."
Erfan Arkin, 26, also of Brighton, said he does not think the scooters are a good idea because of the foot traffic in the city and the nuisance that leaving the scooters around can cause.
"There's a lot of cyclists and a lot of students on the sidewalks," Arkin said. "I just don't think it's safe, and leaving the scooters around everywhere would be a problem for the city."
Fraliza Gianniodis, 36, of Allston, said she thinks the scooters are a good idea because they offer some people an affordable mode of transportation.
"The customer will have another option instead of a bicycle," Gianniodis said, "so they have something more easily affordable to get from point from point A to point B."
Joel Lau contributed to the reporting of this article.