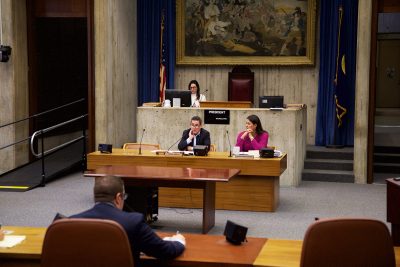 Massachusetts district attorneys, public defenders and a community group filed a lawsuit in federal court Monday against U.S. Immigration and Customs Enforcement to prevent the agency from arresting and detaining immigrants at courthouses in the state.
The injunction was filed by Suffolk County District Attorney Rachael Rollins, Middlesex County District Attorney Marian Ryan, the Committee for Public Counsel Services — the state's public defender — and the Chelsea Collaborative, a Latino-led community organization serving vulnerable residents in Chelsea, according to a press release from Lawyers for Civil Rights.
Oren Nimni, an attorney at Lawyers for Civil Rights — the organization representing the Chelsea Collaborative in this case — said if the U.S. District Court of Massachusetts grants the preliminary injunction, ICE would be barred from enforcing arrest orders in and around state courthouses until a full trial can be held.
"Although you never know, but we expect that the government will likely oppose [the injunction]," Nimni said. "And so that's probably the next step, is for this court to schedule a hearing … on whether or not they're going to grant that preliminary sort of relief."
Nimni said he estimates that the litigants will have to wait anywhere from a year to a year and a half before a full trial can take place. He also said ICE's strategy of arresting immigrants in and around courts prevents the administration of justice in a "very concrete way."
"When people come to court, some people are just arrested in the parking lot, on the steps, or in the courthouses," Nimni said. "They are torn away from their families, they are torn away from the court hearings, the court hearings can't go on. And those people are put into immigration detention, you can never access justice."
Wendy Wayne, director of the Committee for Public Counsel Services' Immigration Impact Unit, said ICE's enforcement prevented immigrants and their families from accessing justice.
"It is having a tremendous chilling effect in immigrant communities and preventing witnesses and other people who have legitimate reasons why they want to come to Massachusetts or need to come to Massachusetts courthouses," Wayne said. "It is preventing them from coming out of fear of being arrested by ICE officials."
Wayne said ICE's actions are unlawful, as they violate a "long-standing understanding" — called a common law privilege — originating from English law that recognizes people should be protected from civil arrest when attending court. Residing in the United States without lawful status is a civil offense, Wayne noted, rather than a criminal offense.
"There is a privilege against being civilly arrested on an unrelated matter," Wayne said. "And the purpose of that privilege is to provide unfettered access to the courts and to provide unfettered ability of the courts to administer justice."
Wayne said the case was originally filed in the Massachusetts Supreme Judicial Court, but that a judge denied the petition, ruling that it was better suited for federal court.
After their unsuccessful first attempt, Nimni said CPCS was joined by Rollins, Ryan and the Chelsea Collaborative to bring the lawsuit to the federal level.
"[We] got contacted by DA Rollins's office to come in and say, 'Look, this is harm that we're seeing in our day to day, we can't effectively prosecute people,'" Nimni said. "… And Chelsea Collaborative got involved because they really are on the ground and seeing the impact that this has on the community every single day."
Jainil Shah, 24, of Brighton, said he thinks the lawsuit is a good idea and that ICE should not be able to arrest people if they have not done anything wrong besides being an undocumented immigrant.
"I think everyone should have a fair chance and equality of freedom of what they are expressing," Shah said. "No one should be arrested on where they enter and where they come from."
Emerson College student Brooke Dunn, 21, said she is in favor of the lawsuit against ICE.
"I'm pretty much against anything ICE does because I feel like it takes away access from people who are trying to have a better life," Dunn said.
Zafer Yuksel, 38, of Waltham, said he is totally in support of the lawsuit.
"It is a good idea," Yuksel said. "ICE is taking the constitutional rights of people and scaring people, and also harming justice."