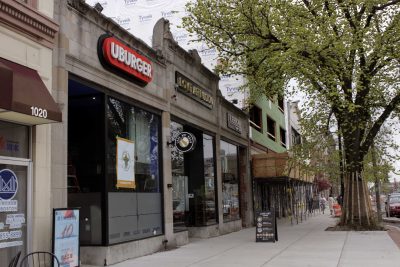 A new Mexican restaurant called Taqueria el Barrio is slated to open by the end of the month at the former location of UBurger in Boston University's West Campus.
Servio Garcia, co-owner of the restaurants Bergamot in Somerville and Bisq in Cambridge, is opening the taqueria at 1022 Commonwealth Ave. along with Bisq chef Alex Saenz. The restaurant will serve tacos and other traditional foods of Northwest Mexico.
Taqueria el Barrio will be open seven days a week from 11 a.m. to midnight, according to an article published by Eater. Other items on the menu will include quesadillas, tortas and plates, Eater reported.
Garcia said his restaurant, which he described as a "totally different" approach to a Chipotle, is looking forward to becoming a part of the BU and Brookline communities.
"That is pretty much our main focus — cater to them," Garcia said. "Not only in terms of options, also price point. We're really looking forward to be part of the BU community."
Garcia's other two restaurants are higher-end, sit-down dinner spots, he said. Taqueria el Barrio will be completely different — a "traditional Mexican taqueria," he said.
The restaurant has shared a handful of photos of the construction process on their Instagram page over the last several weeks. Several photos show tables tiled with colorful patterns, and another shows a long, winding wooden table against an exposed brick wall.
https://www.instagram.com/p/Bw2OC6Og1RB/ 
Gracia said the restaurant plans to have as much of their food locally sourced as they can.
"We will be working with — as much as possible — local groceries, local farmers, and get as much as possible local in order to be able to offer fresh and delicious food," he said.
Garcia added he hopes Taqueria el Barrio will be able to help improve the area around 1022 Commonwealth Ave. as a place both to live and to shop.
"[We] hope we have the support of all the community from BU, and we're definitely looking forward to partnering with them to help the area to become a better [destination]," he said.
Fajer Almarzouq, a sophomore in the College of Arts and Sciences, said they spend most of their time in East Campus but would want to try Taqueria el Barrio if they had the chance.
"I don't really go to West Campus since most of my classes are in Questrom," Almarzouq said. "Yeah, I mean [it] sounds interesting, … if I'm going to CGS I wouldn't mind trying it."
Fahar Laqa, a CAS freshman, said he'd be interested in trying the new taqueria when it opens.
"I don't think there's a nice taco place here, so if it's good, then it's nice," Laqa said. "I'll be here for the summer, so I might [try it]."
Christopher Young, a junior in the College of Communication and the College of Fine Arts, said he thinks the opening of this new restaurant makes sense in a changing West Campus.
"I feel like it's just par for the course just in terms of all the development there," Young said. "But it's cool that there's going to be a taqueria there."