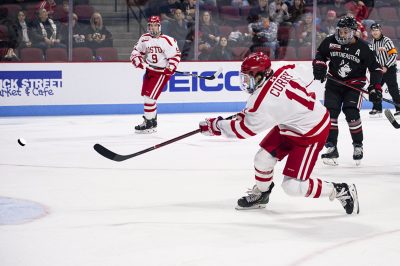 After an action-packed 40 games and an eventful first month of the offseason, the dust has settled on the 2018-19 season for the Boston University men's hockey team.
"There were a lot of ups and downs this year," BU head coach Albie O'Connell said in reflection on the 2018-19 campaign.
It was O'Connell's first season at the helm for the Terriers, though the former team captain said he had some help along the way from BU hockey legend Jack Parker, as well as New York Rangers head coach and former BU boss David Quinn.
O'Connell served as an associate head coach under Quinn from 2015 to the summer of 2018, when Quinn left for the NHL and O'Connell was named to the top job.
"[Those were] two guys I leaned on a little bit this year," O'Connell said. "They were pretty helpful to me and our staff in the transition."
The first-year manager led a team that finished with an overall record of 16-18-4. The Terriers went winless in their first five competitive games, though would only fall in three of their final 10 fixtures. O'Connell said he credits his players for this improvement.
"They stuck with it and kept working," he said. "Guys were playing pretty banged up."
The Terriers finished their season without bringing any hardware back to Commonwealth Avenue. The team fell in the semifinals of the Beanpot and the Hockey East tournament, both 2-1 overtime losses against Northeastern University.
"We were, in the Beanpot and the Hockey East semifinals, a goal away," O'Connell said. "Those are tough pills to swallow."
O'Connell said he thinks earning a spot to play among the conference's final four teams at TD Garden was a notable accomplishment in itself.
"It's hard to get to the Garden," he said. "The league was very tight this year."
O'Connell noted his team's effort on the ice was never a question this year.
"The guys gave it their all," he said. "We look for the same, if not more, from the returners."
Looking ahead to next season, the Terriers will rely on continued contributions from major players in the 2018-19 squad. Among those anticipated to carry the weight will be a leading group comprised of rising senior forwards Patrick Curry and Patrick Harper, as well as rising junior forward Logan Cockerill and rising junior defenseman Cam Crotty.
Curry will serve as BU's sole captain next season, as announced by O'Connell at the team's annual banquet on April 27. The Illinois native had a breakout 2018-19 season as a junior, tallying 26 points to top his total from his first two collegiate seasons combined.
As Curry is entering his senior season, O'Connell said the Terriers know they have a strong skipper to set an example for the club.
"To the guys who are in the weight room, watch what Curry did last year," O'Connell said. "We love the way he plays, we love the way he competes."
Alongside Curry will be Harper, who was named an assistant captain for next season. As one of just a handful of seniors on the roster, Harper will be expected to continue his knack for production that has brought about three straight campaigns of 20 or more points.
"He's a great scorer, playmaker and offensive threat," O'Connell said of Harper. "We believe we have the most dynamic guy in the league in Patrick Harper."
Crotty will also be an assistant captain in his third season on the team, and as the only non-forward among the leadership group, the Canadian looks to be the clear-cut leader of BU's defensive corps.
"He really was stable back there," O'Connell said of Crotty. "He gave us some offense at times but didn't do it in the way of losing any defense."
Cockerill will round out the list of BU assistant captains. O'Connell said the Michigan native has major potential on both ends of the ice and could play a critical role for BU as an upperclassman.
"When he's on his game, he's about as good as anyone in the country," O'Connell said of Cockerill. "He's a competitive guy, and we expect him to be like that every game next year. Consistency will be a key for him."
The team will welcome 10 recruits to Agganis Arena in the fall, replacing the five graduating seniors and five premature departures bound for professional hockey. Per O'Connell, the team also has plans to bring in a graduate transfer goaltender to fill the void left by junior netminder Jake Oettinger, who has elected to move on to the Dallas Stars organization.
Oettinger has patrolled the BU crease for the last three seasons, and bringing in a graduate student for 2019-20 would only serve as a temporary solution between the pipes. Within the program, O'Connell said he is confident rising sophomore goalie Vinnie Purpura is poised to make a long-term impact, whether it be in this upcoming season or the next.
"He did a really good job," O'Connell said regarding Purpura. "We expect him to have a good summer and push for the No. 1 job."
The central mission for the Terriers this fall, O'Connell said, is to put an emphasis on teamwork and cohesiveness. This unity, he said, was a point of development for his team over the course of his first season in charge.
"At the start of the year, we had a lot of individuals, we had a lot of guys on their own page at times," he said. "By the end of the year, we became a team — we played a team game. We weren't worried about who was scoring, we were worried about winning. That's what the program should be about."
While the academic year is in its final legs, there will be no break for the men's hockey team. O'Connell said his squad is already preparing for when they take the ice against Union College this fall to open the 2019-20 campaign.
"The new season is starting now," he said. "We're worried about pushing as hard as we can to start October when we go down to Union to play that first game."
As the offseason progresses, stay tuned for continued posts, articles and podcasts from The Boston Hockey Blog at hockey.dailyfreepress.com, and follow @BOSHockeyBlog on Twitter for more updates.