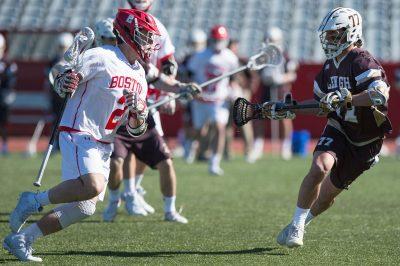 Attempting to make its first-ever Patriot League Championship game, the Boston University men's lacrosse team fell to Lehigh 10-9 Friday night in Baltimore.
The Terriers trailed 10-8 with 9:39 to play but a goal from senior attack Brendan Homire with 7:26 left cut the deficit to just one. BU could not get the equalize the score and they fell for the third straight season in the semifinals.
Just like in the first meeting between these two squads back in April, they headed into halftime with the score tied at 5. The Terriers came out of the locker with two quick goals from freshman attackmen Timmy Ley and Matt Hilburn to take a 7-5 lead.
The Mountain Hawks responded by closing the quarter on a 4-0 to seize the momentum. A big contributor during that stretch for Lehigh was junior faceoff man Conor Gaffney who led the Patriot League all year at the X.
Gaffney was a perfect 6 for 6 on faceoffs in the third quarter which aided the Mountain Hawks in dominating the time of possession and allowing his team to play at the pace they wanted to.
Coming into the contest the Terriers knew that Gaffney would be good at the X, and knew that they couldn't allow him to dominate if they wanted any chance of winning. Gaffney did dominate by going 15-22 on faceoffs and was a big reason the Terriers could not get into a good flow on offense.
The top dogs for BU were primarily shut down—those being sophomore attack Chris Gray and senior attack James Burr. Gray, the leading point scorer in the country, tallied just three tonight. The Mountain Hawks clearly executed their game plan on slowing him down.
Burr scored twice but was not able to tie the game down the stretch when his squad was leaning on him.  Burr's incredible career at BU came to an end on Friday but he finished as the program's all-time leader in points (194) and goals (153).
The 2019 season is just the second time the Terriers have finished with double-digit wins. Many would say this was the best year of the existence of this young program. It's clear that a culture has been established and with the talent returning next year, there's no doubt this team can make the next step and play deeper into the postseason.