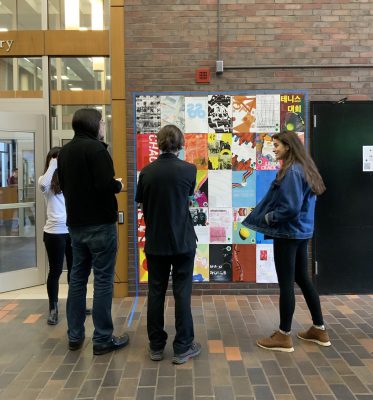 As Boston University's spring 2019 semester comes to a close, the persistently grey weather was interrupted with a pop of color from graphic design installations from Allston to the George Sherman Union.
Professor Kristen Mallia teaches several graphic design courses in the College of Fine Arts. For a final project for some of her classes, students were required to take the designs they had been working on all semester and build an installation in a public place on campus.
One class adorned the abandoned City Sports building in Allston with flyers that passersby were encouraged to peel away and keep. Another class decorated the hallway that connects Agganis Arena to StuVi2, plastering color and pattern onto the plain white walls. The third class displayed their designs in the GSU Link and encouraged viewers to interact with and critique them.
Mallia said she hoped the project would encourage her students to look beyond other art students for feedback on their work, and have them engage with their community.
"The final objective of what everyone wanted at the end of the class was to expand the conversation and iteration beyond the walls of the College of Fine Arts," Mallia said. "The work is emotional, its creative and part of their weekly routine is learning to take constructive criticism and to give it out to improve your work."
In the GSU installation, students stood near their artwork wearing t-shirts which showed off graphic design jargon, such as "Track it out!" and "Got grids? They shouted to the passerby, asking them to critique their work.
Green and red stickers lay on a stool and viewers were encouraged to put green stickers on designs that they liked, and red stickers on designs that they thought were less effective.  
Jay Li, a sophomore in CFA, said he felt the stickers presented an important opportunity to get feedback from people who might not be familiar with the jargon on their t-shirts.
"We're not just making work for arts students and art teachers, we're making art for people," Li said. "It becomes a culture-shock when we come into the real world. Design is made to communicate a message and if it's not working, if it's not reading, then it's good to know."
The students' artwork was littered with green stickers, with a pop of red sticking out here and there. Emerson Lawton, a sophomore in CFA who had worked on the project said she noticed viewers seemed hesitant to put red stickers on the work — especially with the artists standing so close by.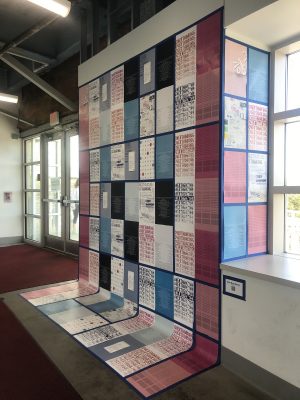 "No one is feeling comfortable putting red stickers, once we run out, someone is going to have to step out of their comfort zone and be critical," Lawton said.
Mallia's other classes chose to engage in the community outside of their art classroom in different ways. Ashley Smalley, a sophomore CFA studying graphic design worked on the installation in the hallway that connects Agganis Arena and StuVi2. In an email, she wrote that she cut up the designs that she had created throughout the semester and displayed them on the walls and floor.
Smalley wrote that passerby commented on the installation as the students were putting it together.
"People were complimenting us as we installed, telling us they wanted to see more, and [were] surprised that the administration hadn't done something similar sooner," Smalley wrote. "We had some negative reactions, where people said that it was just putting random images all over the wall and they did not get the point."
In Allston, the City Sports building installation was titled "Design Is Not Static, Design Can Move." According to sophomore graphic design major Angela Lian, the day her class put up the installation, there was a light breeze that caused the removable posters to flutter, proving that, in fact, design can move.
Lian wrote in an email that she was surprised by how many people took interest in their work and tore the posters off the wall. She wrote she even went back two days after the original installation to put up more.
The class decided to keep their work up on the City Sports building so that it could be part of the urban space and bring attention to the abandoned building, which the property manager is trying to lease, Lian wrote.
"I learned about the life cycle of an art installation and the joy that comes with being involved," Lian wrote. "As an aspiring graphic designer, it's my job to understand and exhibit social responsibility. This experience has introduced me to the exciting possibilities of the relationship between design, community, and social engagement."