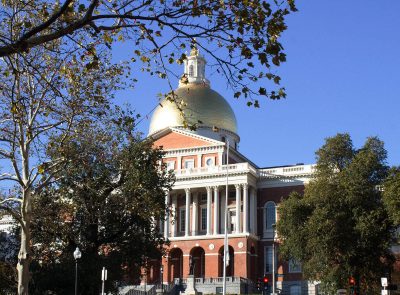 As residents of Boston and the state of Massachusetts, all BU students have a stake in their city and state's governance. Here's a guide to the basics of Boston politics.
Boston's representatives in U.S. Congress
Massachusetts's two senators are Elizabeth Warren and Ed Markey, with Warren making headlines recently as one of the front-runners for the 2020 Democratic presidential nominee.
As for the House, Boston is split between two congressional districts. 7th district U.S. Representative Ayanna Pressley, who unseated incumbent Mike Capuano during the 2018 midterm elections, represents the majority of Boston's neighborhoods, including all of Boston University.
The rest of Boston, mainly the Financial District and South Boston neighborhoods, are represented in the 8th district by Stephen Lynch.
Boston city government
Ever since Boston Mayor Martin Walsh was first elected in 2013, he led an agenda focused on promoting racial and economic equity while supporting at-risk groups such as immigrants and the elderly.
In 2017, Walsh and the Boston City Council joined other cities and states across the U.S. by designating Boston as a sanctuary city in opposition of President Donald Trump's immigration policies.
Over the last few years, Walsh has released a series of action plans aimed at making major improvements to the city's infrastructure, economy and residential quality of life by the city's 400th birthday in 2030.
These plans include goals such as significantly reducing congestion and making Boston totally carbon-free by 2050.
However, the success of many of these plans depends on Boston's 13 person City Council, which serves as the city's legislative branch and oversees Walsh's executive branch. The positions are divided between four at-large councillors who represent the entire city and nine district councilors who represent different areas of the city.
Currently, District 4 Councilor Andrea Campbell is serving as the council's president. BU is in Boston's 8th council district, represented by Councilor Josh Zakim.
This year, all 13 positions are up for reelection, with over 50 candidates currently in the race. Of these candidates, 21 are battling for the four at-large positions. The remaining candidates are concentrated around districts 5, 8 and 9, as those district's councilors have announced that they are not pursuing re-election.
Several hot-button issues for the upcoming election include finding solutions to Boston's affordable housing crisis, increasing economic equity between the city's different demographics, bolstering the city's public school system and making improvements to Boston's transportation infrastructure.
In order to vote in the upcoming City Council preliminary elections in September and general elections in November, students must register to vote in Massachusetts at least 20 days before the election date.
Massachusetts state government
Massachusetts Governor Charlie Baker is one of the most popular governors in the US, despite the fact that he is a Republican in a Democrat-dominated state. In the 2018 gubernatorial election, he defeated Democratic opponent Jay Gonzalez with 67 percent of the vote.
As to why Baker is so popular, the Boston Globe reports that he has built a reputation of bipartisanship with a track-record of siding with liberals on various social issues such as LGBTQ rights and abortion. Baker has also opposed a number of Trump's more controversial policies, especially immigration policies such as the recent travel ban.
However, Baker remains firmly Republican when it comes to economic and fiscal issues. He supports cutting taxes on businesses and residents while reducing government spending.
As for the state legislature, Democrats have maintained firm control over both the State Senate and the House of Representatives for decades, with almost 85 percent of senators and 80 percent of representatives aligning with the Democratic party this session.
The majority of BU is represented by Democratic State Senator William Brownsberger and Democratic State Representatives Kevin Honan, Michael Moran and Jon Santiago.